NORTHERN LIGHTING NEWS
Det er alltid spennende å se hva Northern Lighting kommer med av nyheter og denne gangen satser de på ungt og friskt design fra blant andre finske Hannekaisa Pekkala. Hannekaisa er sisteårsstudent ved Institute of Design & Fine Arts i Lahti, og Circle (over og under) er designet med enkle grafiske linjer. Inspirert av klassiske lysekroner er den et moderne statement. Vakkert stylet av Per Olav Sølvberg og fotografert av Chris Tonnesen på Krosser Gård.
I´m always excited to see the news from Northern Lighting and this time they´ve collaborated with some young and talented designers as well as established ones like Morten & Jonas. Circle (above and under) by the Finnish designer Hannekaisa Pekkala, is a contemporary statement of the traditional chandelier. Simple graphic lines gives the lamp its signature and shape. Hannekaisa is currently completing her final year at the Institute of Design & Fine Arts in Lahti, Finland.
Beautifully styled and photograped by Per Olav Sølvberg and Chris Tonnesen.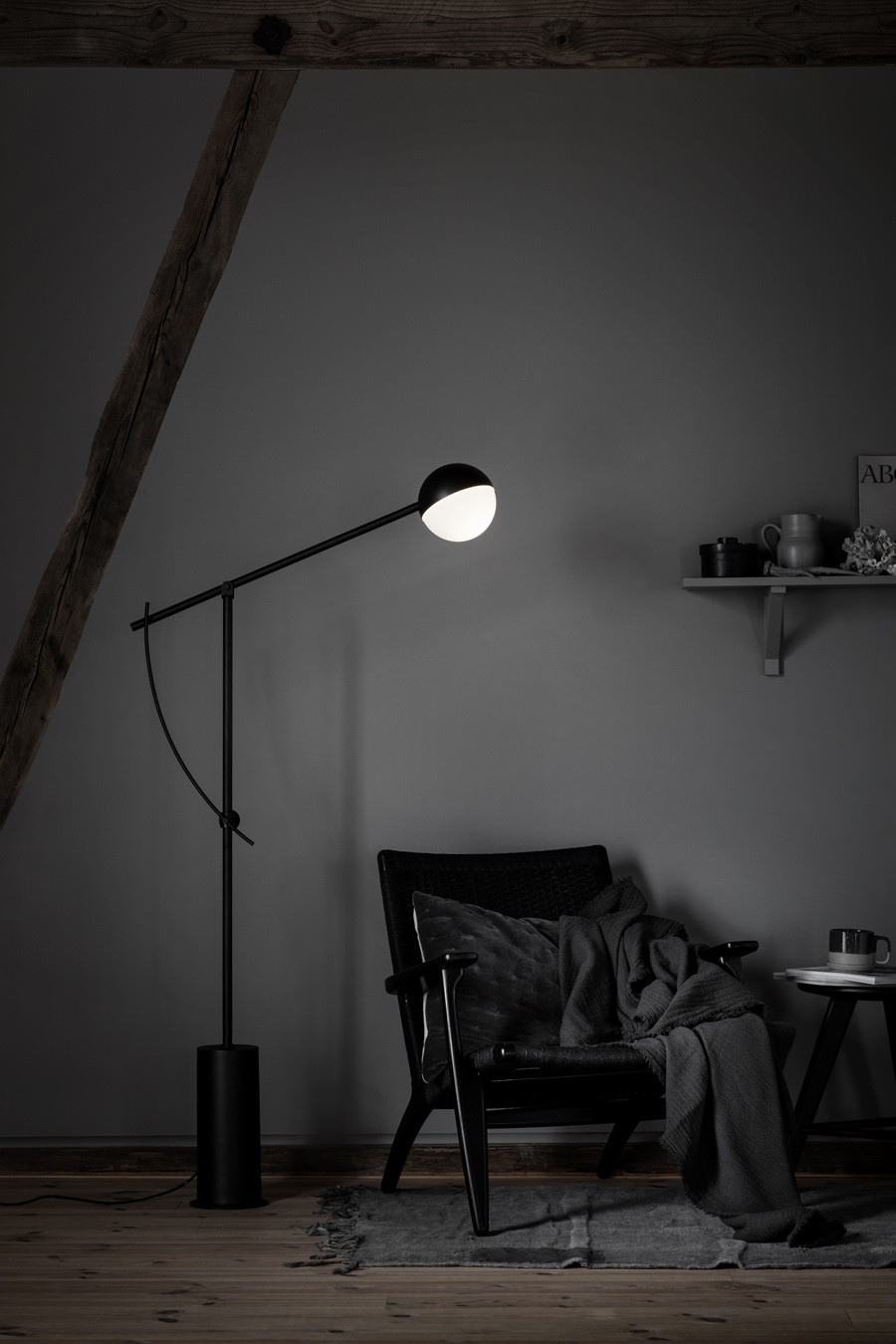 Yuue består av Weng Xinyu og Tao Haiyue som har designet gulvlampen Balancer (over). Den regulerbare lampen består av rene, arkitektoniske linjer i kombinasjon med klassiske geometriske former og god funskjonalitet.
The adjustable floor lamp Balancer is expertly crafted in black, powder-coated steel, creating a stunning combination of light, geometry and structure. Formed by clean, architectural lines and classic geometrical shapes. Balancer is designed by Yuue, a German based duo made up of Weng Xinyu and Tao Haiyue.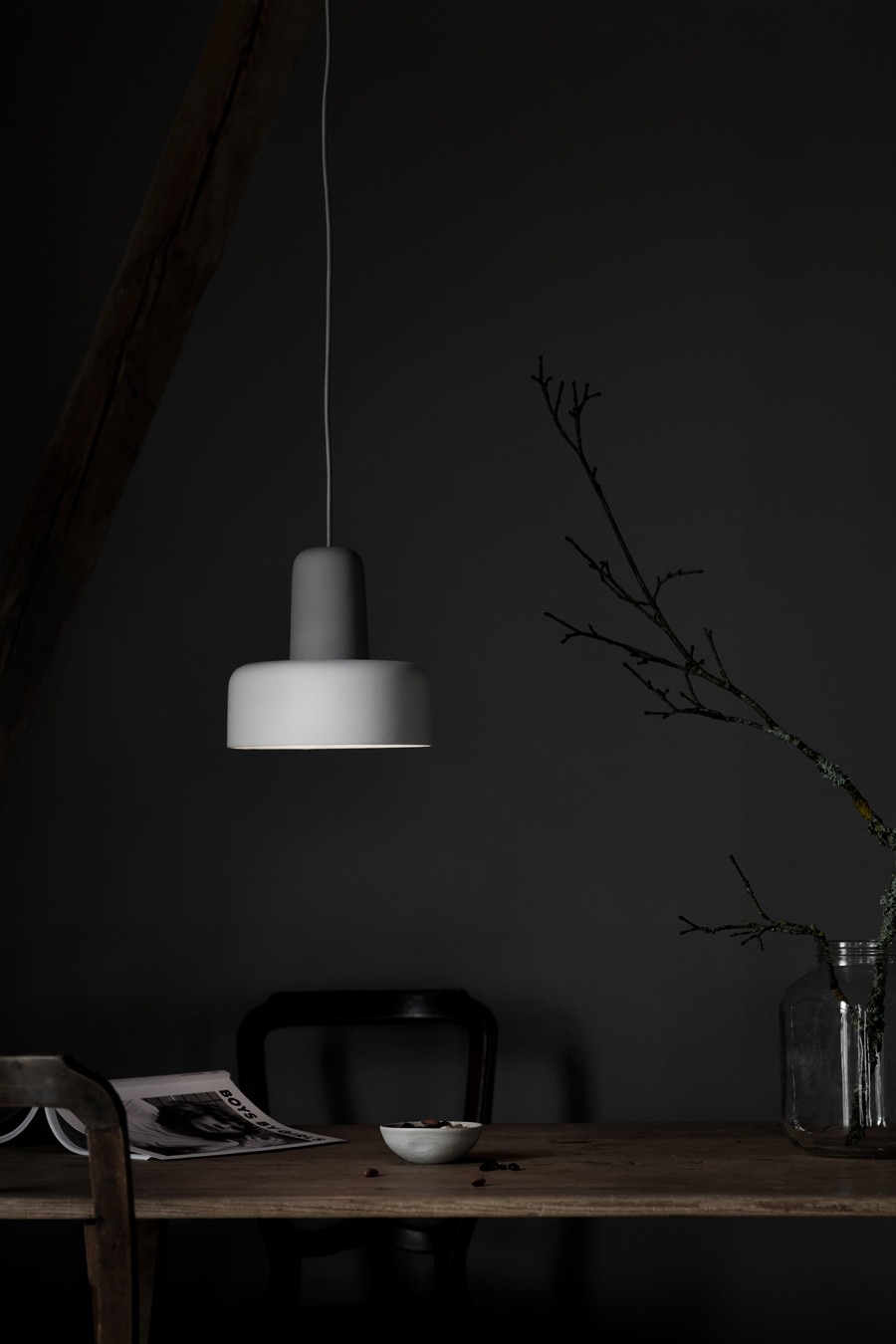 Takpendelen Meld er en annen fin nyhet fra Northern Lighting. Lampeskjermen består av to deler i keramikk som er presset, kuttet og glasert for å blende sammen til en harmonisk helhet. Designet av Noidoi Design Studio.
Meld (over) is made of stoneware which is a popular material for quality lighting. The shade is comprised of two parts, each one pressed, cut and glazed to meld into a single, harmonius whole. Designed by Noidoi Design Studio.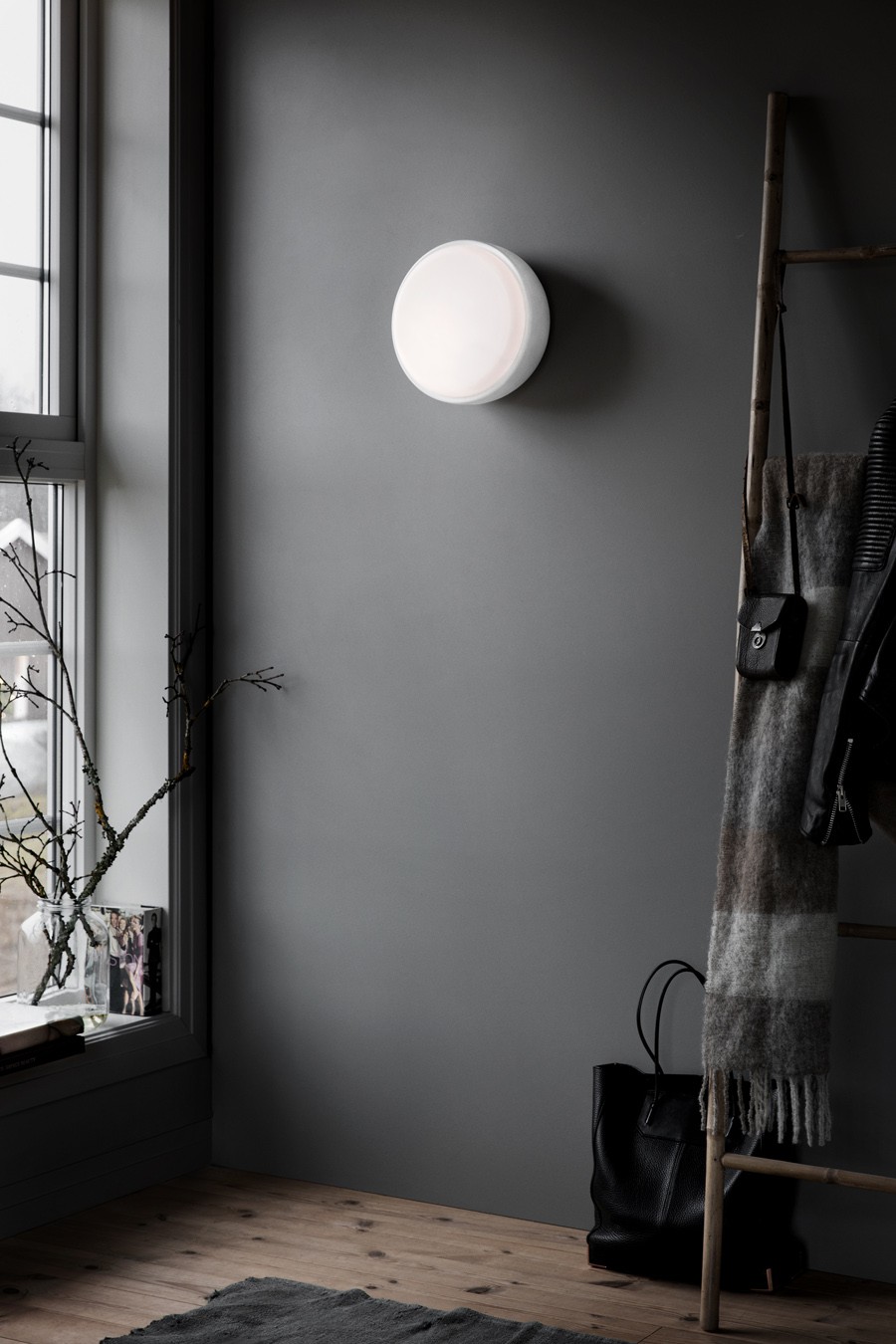 Å lage spennende tak- og vegglamper som Above er en liten bragd i seg selv (bilde over). De ser vanligvis noe kjedelig ut men her har Morten & Jonas formgitt en lampe som både evner å være en diskret del av omgivelsene når den monteres i taket og bli et fokuspunkt montert på vegg. Kommer i to størrelser og tre farger, hvit, grå og sort.
Wall- and ceiling lamps like this usually look a little bit dull, but the Norwegian duo Morten & Jonas has created a lamp which is subtle enough to blend in with the ceiling, yet stylish enough to create a focal point when installed on a wall. Above comes in two sizes and three colors, white, grey and black.
Sat My Name ble designet i 2013 av Morten & Jonas og den orginale lilla fargen er byttet ut til fordel for en nøytral grå. Say My Name fås både som bord- og pendellampe og begge fås med matt eller glossy, transparent overflate.
Say My Name is no new product but two lamps with a new color. The lamp is designed by Morten & Jonas, and the original purple shade is replaced with a neutral grey tone that keeps pace with the color palettes popular today. Say My Name will now be available in smoked grey with a glossy, tranparent surface or a matte finish.