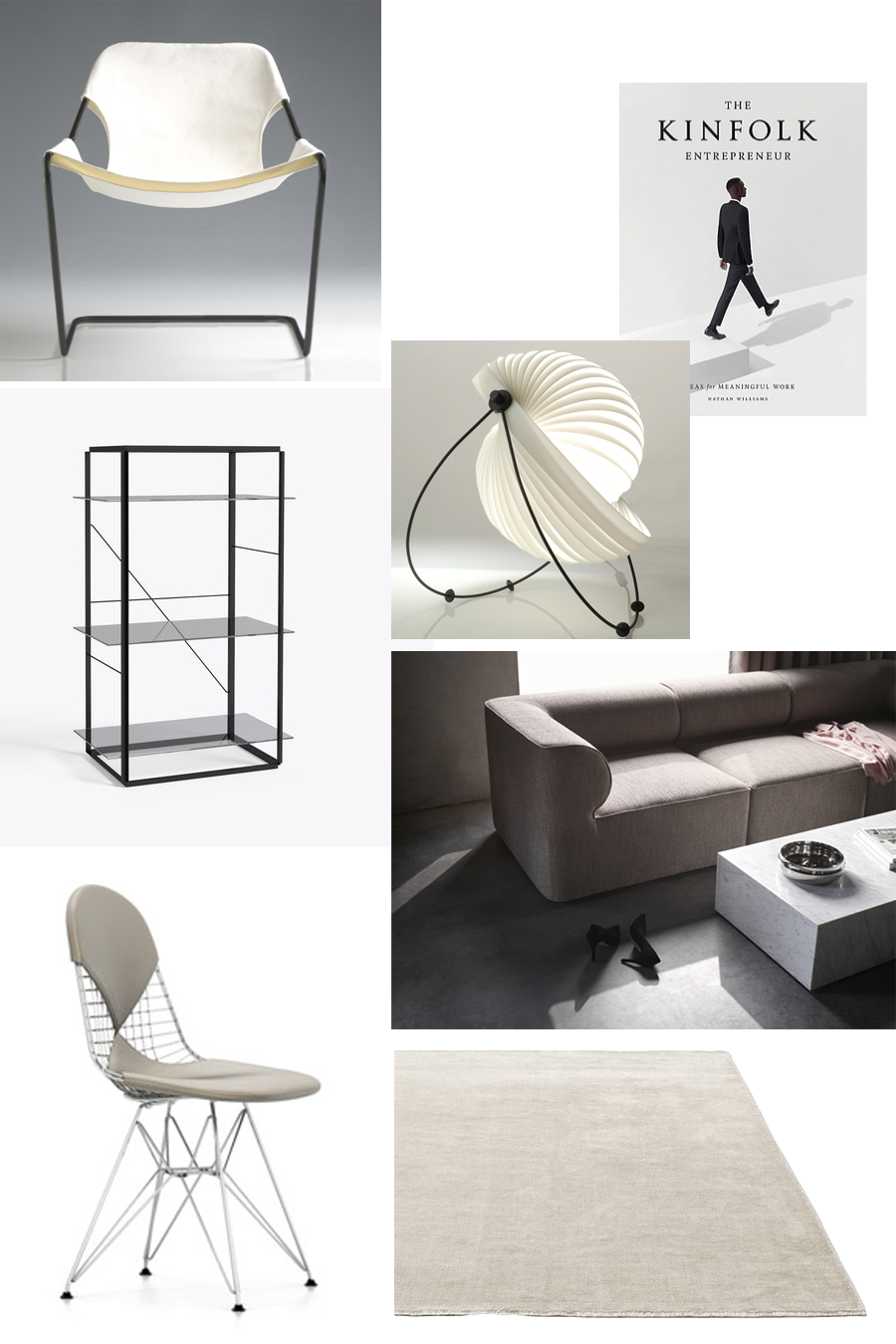 ON MY WISHLIST AUGUST
I am still looking for an apartment to buy and although I haven´t found the place yet I have a long list of furniture, lamps and accesories I wish to fill it with. And I can´t wait to start renovating my own place! ..cause obviously I need to. From top left,
1. Paulistiano lounge chair, designed by Paulo Mendes da Rocha in 1957. Available both in canvas and leather and so very comfortable. 2. The Kinfolk Entrepreneur book, launched this fall. Nathan Williams and the Kinfolk team has visited more than 40 creative entrepreneurs from around the world who are making business personal. I am looking forward to this, I´m sure it is super inspiring! 3. Florence Shelf from New Works, design by Knut Bendik Humlevik and Josefine Hedemann. I would love to have this to display my favorite objects. Also available in golden/clear glass finish. 4. Eclipse Lamp by Maurício Klabin, a fushion between an object of art and a lamp. A design icon that become part of the permanent collection at MoMa in 2006. 5. Eave modular sofa from Menu. Launched this fall, designed by Norm Architects. The perfect place to relax.. 6. Eames Wire Chair DKR 2, Vitra. I love my Eames chairs for their comfort, but this one has so much more edge and personality. And the sand colored leather is absolutely beautiful. 7. The Moor Rug, &tradition. Designed by All the Way to Paris in 2016. The rug have a subtle shimmer to the surface to echo the qualities of a gemstone, and would be the perfect way to add some sophisticated glamour to my living room to be.
Fingers crossed for the dream apartment to come along soon!
Elisabeth
LagreLagre