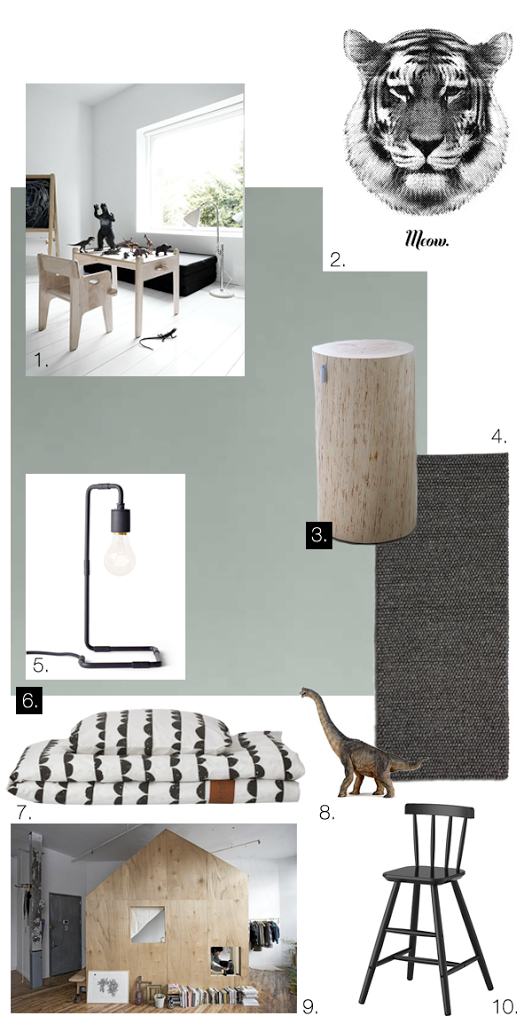 INSPIRASJON GUTTEROM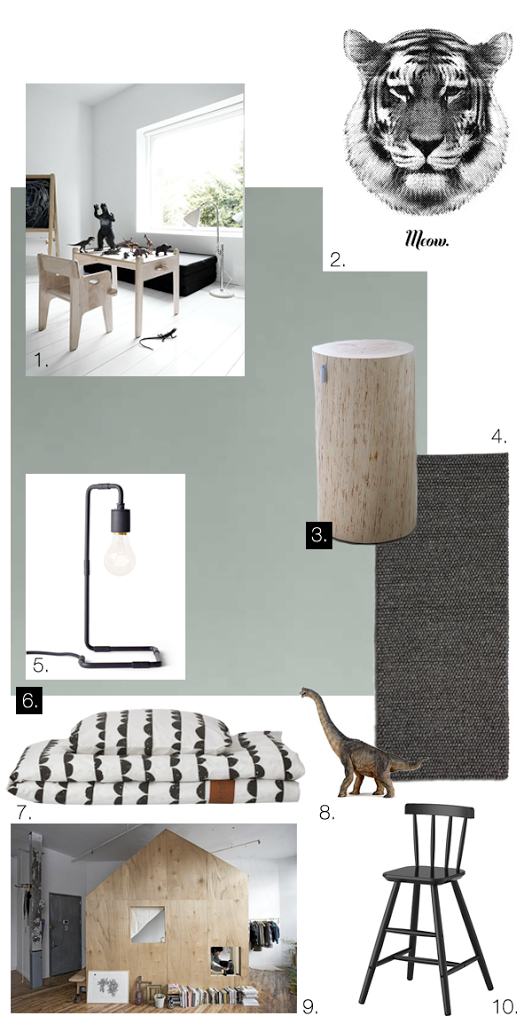 1.Wienberg Architects/photo by Mikkel Mortensen. 2.Meow poster/RK Design. 3.Wood
stump/Krosser. 4.Peas rug/Hay. 5.Tribeca Table lamp/Menu. 6.Color Minty Breeze/Lady Balance – Jotun.
7.Half Moon bedding/Ferm Living. 8.Brachiosaurus/Sprell. 9.Inspiration via Pinterest, design Terri Chiao.
10.Agam chair/Ikea
I høst har jeg holdt på med barnerommene her hjemme, og gutterommet har foruten en
vegg som allerede er malt i den nydelige grå-grønne fargen Minty Breeze, kun vært på
planleggingsstadiet. Nå som jeg har kommet frem til uttrykket vi

(og ja, han er delaktig her : )
ønsker der inne kan jeg
jo dele det med dere. Veggfargen har femåringen valgt selv, og
tigerplakaten har han
fra før men bortsett fra det må det litt nytt til når vi skal
oppgradere til et rom som passer en snart-skolegutt. Skandinavisk, lyst treverk, natur-
materialer og hans forkjærlighet for dyr
er gjennomgangstema – og dette gleder jeg meg
virkelig til å komme
i gang med!
The last months I´ve been working on both the
childrens rooms at home, and now we´ve finally found
the expression we wanted. My five-year-old and I : ) The Scandinavian style with materials from nature, wood,
wool and the animals he loves so much will be the theme. One of the walls are already painted in the color
Minty Breeze, and I can´t wait to get started with the rest!