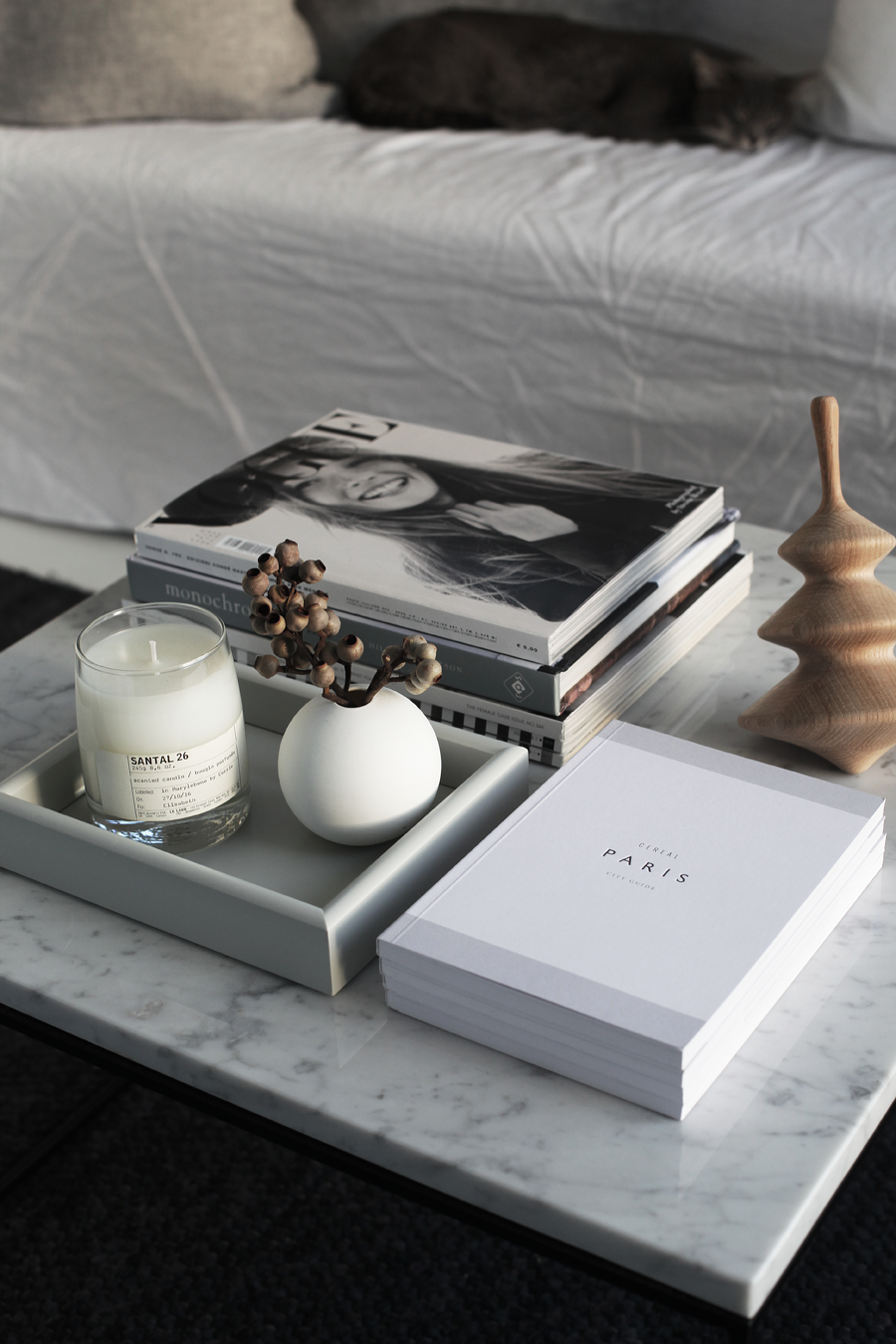 COFFEE TABLE FAVORITES.. AND HOW TO STYLE IT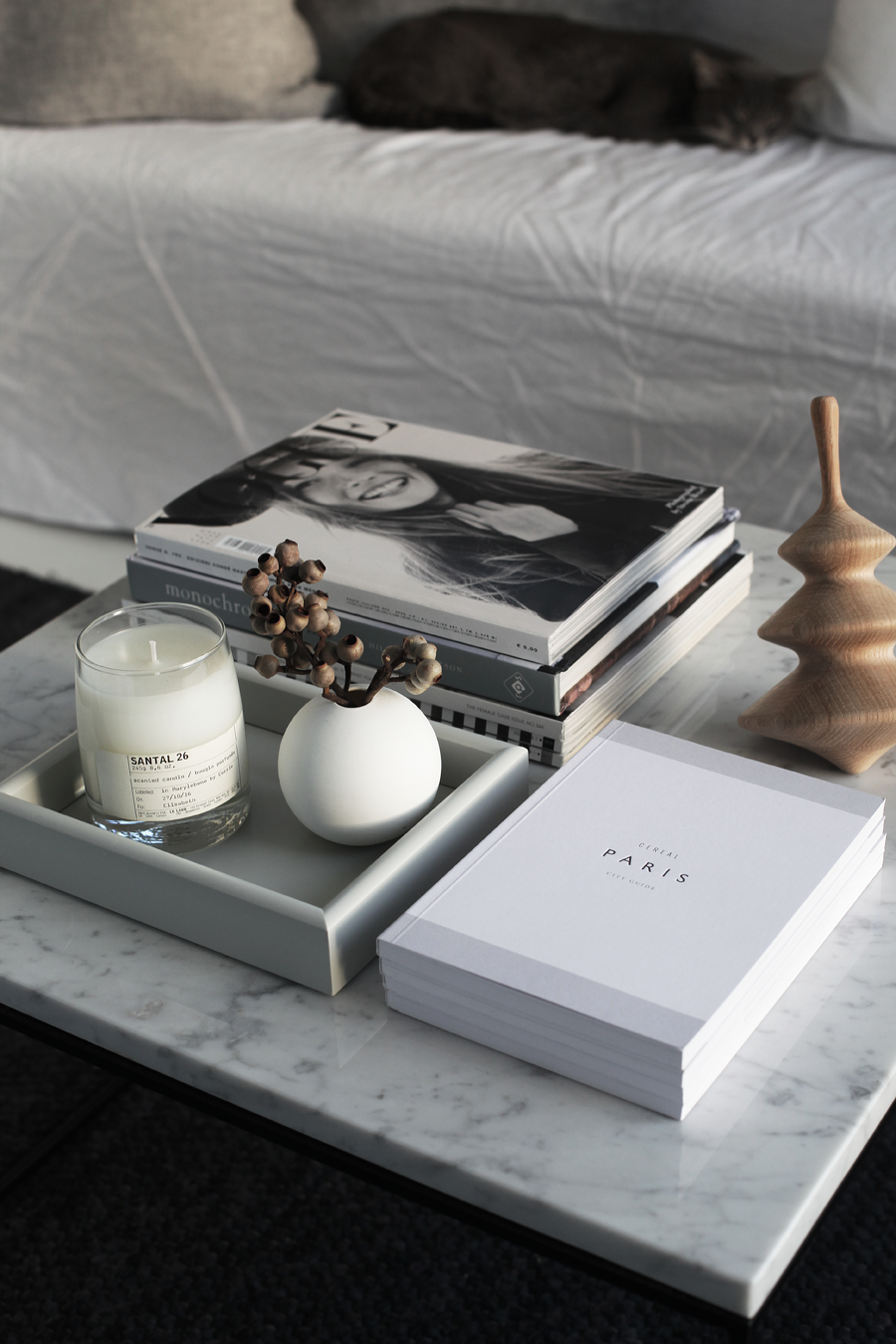 Jeg får stadig vekk spørsmål om tips og forslag til hva man kan ha stående fremme som dekorasjon på stuebordet og hvordan man kan style et spennende stilleben der. Jeg varierer på mitt, men som oftest ligger det fremme en bunke magasiner og noen gjenstander jeg er glad i. Og nei, magasinene er ikke bare der som dekorasjon, det er helt enkelt min måte å samle bøkene og magasinene jeg holder på å lese.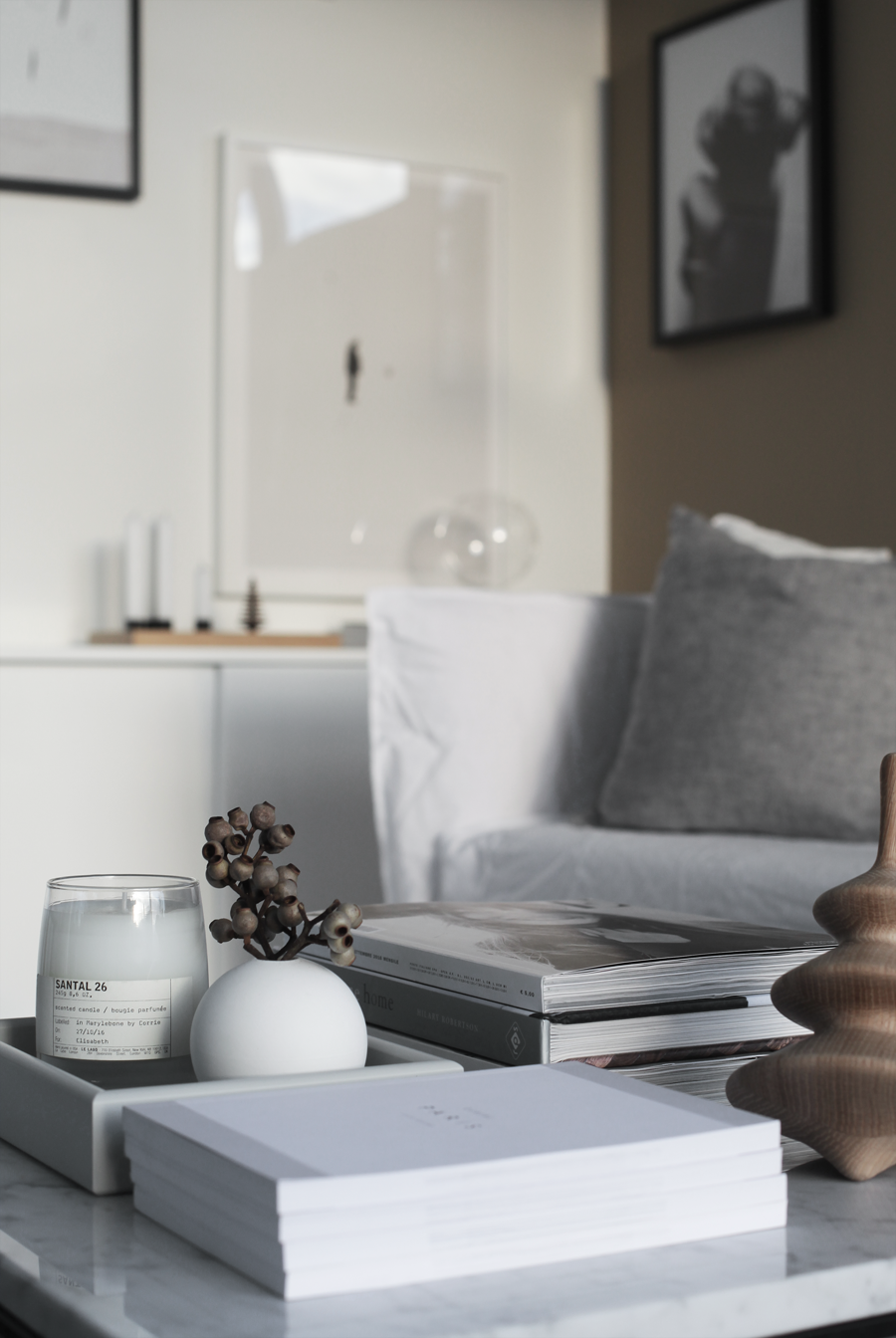 Man kan fint ha stående en del fremme på bordet uten at det blir rotete. Det er imidlertid greit å holde seg til størrelser som forholder seg fint til hverandre, farger som harmonerer og prinsippet med å samle mindre objekter i grupper. Her har jeg brukt et lite brett til å samle duftlyset og en liten vase på. Bøkene og magasinene er lagt i to bunker etter størrelse. Fargeskalaen går i grått, hvitt og brunt og frøkapslene i vasen henter opp den varme fargen fra tredekorasjonen. Det lille som vitner om jul.. De rette linjene bøkene og brettet skaper bryter jeg opp med rundere former slik at det blir mer spennende.
Duftlyset fikk jeg også noen spørsmål om etter jeg postet et bilde på min Instagram Story. Det var en gave fra Le Labo, og de må ha noen av de beste duftene som finnes. Jeg var innom en av butikkene i Paris i våres og for et sted. (Mer om besøket her.) De blander parfyme i butikken mens du venter, etikettene blir skrevet ut der og da – og du får selvfølgelig ditt eget navn på. Det fine lyset jeg fikk nå nettopp er merket med mitt navn og duften Santal 26 er helt himmelsk.
På bordet: Duftlys – Santal 26, Le Labo. Tredekorasjon – Spruce, Kristina Dam. Vase – Ball Vase, Cooee. Brett – Montana. Diverse magasiner, bøker og Cereal City Guides.
Elisabeth
// From time to time people ask me about suggestions and tips on how to create a interesting still life on their coffee table, so here we go. I always keep a pile of magazines or books on my table. And they are not only for decoration, its actually the books and magazines I`m trying to catch up on. In contrast to the straight lines they create I´ve added some softer shapes in the candle, the vase and the wooden decoration (which also adds a Christmassy feeling to the table). The vase and the scented candle is gathered in a small tray, and the colors are soft greys, whites and browns. When lots of things are put together like this keeping it down to two or three colors is a good idea.
Some of you also asked about a gift I received a few weeks ago when I showed it on my Instagram Story. The scented candle was from one of my favorite places in Paris, Le Labo. Hand blended and with the loveliest smell..
On the table: Scented candle – Santal 26, Le Labo. Wooden decoration – Spruce, Kristina Dam. Vase – Ball vase, Cooee. Tray – Montana. Cereal City Guides and various books and magazines. //