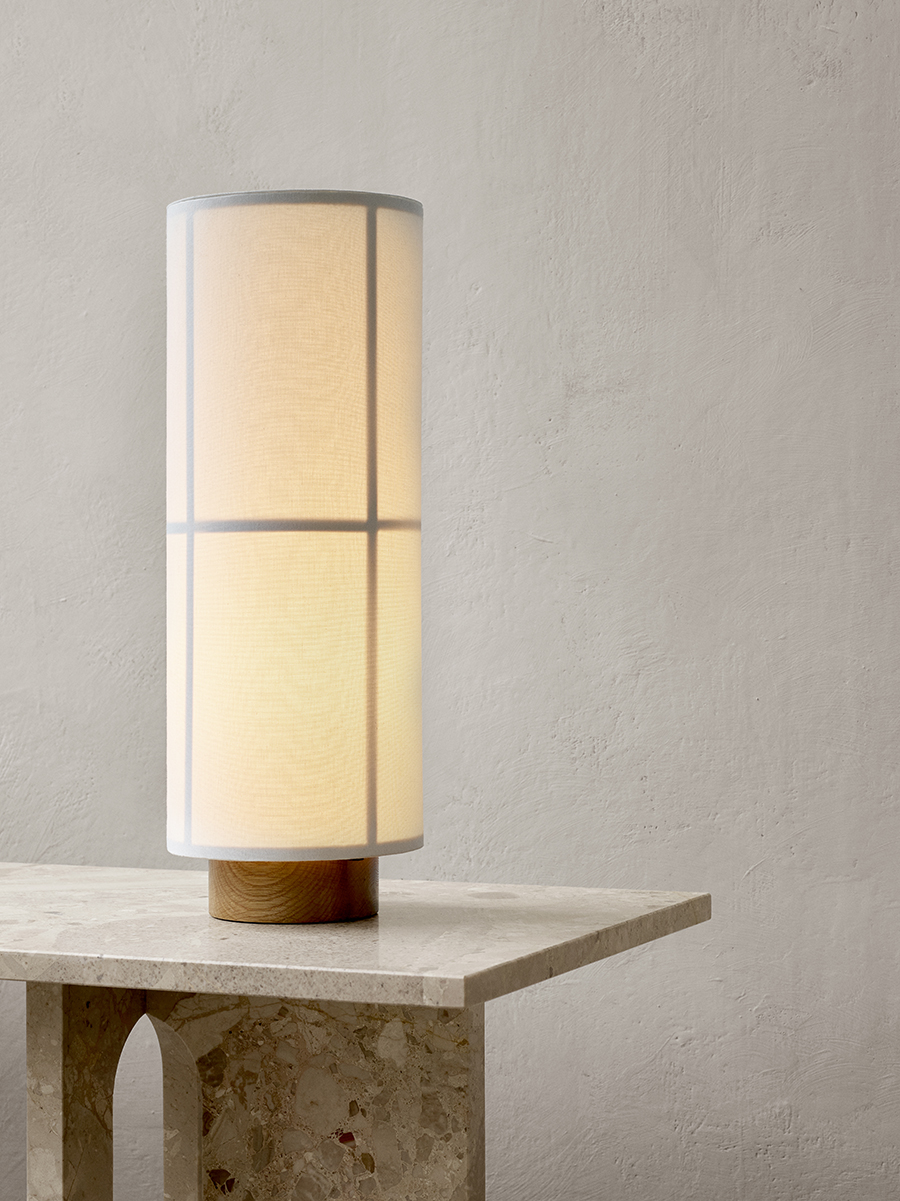 FRIDAY FINDS
Alongside with my favorites from the news released after New Years I'm showing you some other designs that has been saved in my favorites folder over the past months. There are simply so much great design to share – both from established brands and young and up and coming designers and makers! 
First up the Hashira collection from Menu. The Hashira lamps is a modern, Nordic take on the traditional Japanese rice paper lantern. Taking its name from the Japanese word for column or pillar, the textile lamps fill a space with cosy, ambient light and, true to the nature of the lantern that inspired the collection's creation, the slender structure is visible through the shade, lending the glowing column a graphic expression. Designed by Norm Architects. 
I first spotted Androgyne side table in the former Menu showroom a year and half ago – it has now been expanded into a whole collection of tables to include a lounge table and a dining table. The Androgyne collection is designed by Copenhagen-based Norwegian architect and designer Danielle Siggerud and is distinguished by its playful, yet elegant silhouette. New beautiful materials is also introduced, Kunis Breccia stone and oak as well as honed marble and matte powder coated steel.
Not quite new, but still very much worthy some attention – the Frame chair in walnut by Ali Gallefoss. Ali Gallefoss is a Norwegian furniture designer and artist, known for his remarkable design and his way of challenging perfectionism in the industry. As a design student at Oslo National Academy of the Arts, he explores with material and techniques from traditional arts and crafts.
Jone Myking is another talented, young Norwegian designer and maker, latest releasing the Fagerborg series. The materials used in the collection was sourced from a fallen  250 year old ash tree at Fagerborg here in Oslo. Jone is extending the life of the tree through design and highlighting the material properties. 
Pedestal by Vilde Haglund consist of geometric parts made by machine. A hand-carved texture is added on the surface, for a tactile experience, enhancing the material agency and the value of craft. In a way, they can be seen as a representation of how machine and hand can coexist to make rare products in a world with overconsumption and mass production. Vilde Haglund graduated from Oslo Met in 2019 with a masters degree in product design.
Northern is celebrating 15 years in 2020 and yesterday they released their news. One of them being the Mass table with a cool, sculptural silhouette, designed by Roee Magdassi. With its practical design and contemporary appearance, Mass blurs the boundaries between modern art and essential functionality. Crafted with the compact proportions of a side table, Mass provides openings for the storage and display of everyday items.
The rug above is also one of the news from Northern, Row Circular. Each rug in the Row series was inspired by a bird's-eye view of the landscape. Their textured surfaces are shaped by parallel lines that resemble the furrows of a ploughed field. The sections of rows are regular, yet meet at different angles, mimicking how boundaries between fields shift from harvest to harvest. Made from New Zealand wool, each rug is individually hand-loomed. Design by Studio Terhedebrügge. 
Last up, a couple of new products from Danish Gubi. The Epic table by GamFratesi is a sculptural piece of furniture inspired by Greek columns and Roman architecture. Gubi has also launched a new sofa, looking both super comfortable and stylish. With Wonder Sofa, Space Copenhagen has updated the informal, generous and playful nature of the original modular sofa with an elegant and simple frame. It draws on references from the 1970s and has details that radiate welcome, relaxation and comfort while remaining minimal in its expression. 
Elisabeth