JONAS FROM NORM ARCHITECTS ON IDENTITY, THEIR WORK AND HOW IT ALL STARTED
Following the work by Norm Architects for years, I admire the versatility of the company. Being involved in both residential architecture, commercial interiors, product design, photography and art direction. Always with a clear identity. Identity was also the topic for Jonas Bjerre Poulsen´s lecture on Oslo Design Fair some weeks ago, and I got to talk with him afterwards to dig more into what Norm Architects is all about.
It all started way earlier than 2008 when Norm Architetcts was founded by Kasper Rønn and Jonas Bjerre-Poulsen. Their friendship goes long back, they both studied and worked together before Norm became a reality. Jonas tells; Ending up as designer and architect wasn't the initial plan for me. I studied economics while Kasper was studying architecture. Halfway through my studies I wanted to work in a more creative way and decided to go to Rome to study art and philosophy. I also worked with a Spanish artist while I was there. Being in Rome surrounded by great art and history I had the time to find my way to approach the creative way of working. I wanted something both creative and practical and architecture became the obvious choice. They both went to the Royal Danish Academy of Fine Arts, and worked at Ole Palsby Design studio after their studies.
In 2008 Norm Architects was founded by Jonas and Kasper, a multidisciplinary design studio with a strong Scandinavian identity. As they describe it, a soft minimalism. When everyone else did more pompous design ten years ago, the duo wanted to design with the focus on quality, details and durability. Design they would be equally proud of ten years ahead. I can clearly see their identity shine through their work all along the way and Jonas tells; We have intentionally worked with clients with the same believes as we have, and feel privileged to have been able to. Our style is more sophisticated now than ten years ago, naturally with the development that clients also has more resources. Looking back on the early residential projects (Humlebæk house below) compared to one of our recent projects (Gjøvik house) our style has definitely developed but our identity is still present in both projects. 
How do you think the business has changed since you founded Norm Architects ten years ago?  It was different generation of designers back then, but things were changing within Scandinavian design. Muuto was pioneers for what we call "New Nordic", and also the restaurant Noma in Copenhagen meant a lot for what we know as new nordic today. How Muuto and also Hay worked back then made it easier for young designers to get known and also the well established companies realized they couldn't only sell their icons but also put resources into new design. Overall there are so many things going on in Copenhagen, creativity is every where and people from all over the world is gathering here.

A good example of the buzzing creativity in Copenhagen is Kinfolk (lifestyle magazine) and their move from Portland, US to Copenhagen. Inspired by the Scandinavian way of living they opened their new headquarters in central Copenhagen in 2016 and Norm Architects designed their combined office and gallery (above and below). Described by Norm Architects; Much like human well-being, the essence of our work is found in balance— between richness and restraint, between order and complexity. Our vision is to look beyond sight. We want to create spaces that feel good in every way. The brief for the space was to create a collaborative space where friends and partners could come together to share ideas and showcase their work and an office space that had an informal, elegant and homey atmosphere. The Kinfolk Gallery and office space was created in close dialogue with Nathan Willams and Jessica Gray from Kinfolk. With inspiration from both Scandinavian and Japanese design, the interior architecture is minimalist, but thoughtful with attention to every little detail. The colour palette consists of soothing, warm greys, white and black, mixed with fair wood and metals for contrast. Every single tone, nuance and material in the space has been carefully selected to create a harmonious and natural feel that is suited for the Kinfolk credo of slow living. You can see more of their office from my visit here. 
Of commercial interiors developed by Norm Architects the new Menu Space in Copenhagen has gotten a lot of attention. Menu Space is a showroom, office, and café, designed specifically for Danish design company MENU. With the goal of creating a welcoming space where everyone can stop by – for a coffee, a meeting, or simply to have a close up look at the designs of Menu – the interior is inspired by the raw and industrial setting of the surrounding area. Located in the upcoming Copenhagen neighbourhood surrounding the harbour in Nordhavn, the space draws heavy inspiration from strong materials such as concrete and steel, which can be seen throughout the space. This use of natural and durable materials provides a beautiful contrast to the objects and designs that fill the plateaus, floors, and corners. I visited in June and it truly is an amazing space. The space is equipped with a kitchen from Reform and Menu furniture, both kitchen fronts and a lot of the furniture is designed by Norm Architects. Read more about Reform here and Menu here.
&tradition and Norm Architects went all the way and constructed a small minimalist village inside an old, rustic and raw industrial space when they created the Village, &traditions former showroom and office in Copenhagen. Housed in a sixteen hundred square meter big warehouse, historically used for the storage of paper, the space was stripped back to its bare minimum. The beautifully exposed wooden roof gables was kept intact and fully visible while the floor was concrete and resin, creating a smooth matte surface. The minimalist execution of the twelve houses that took up the central space of the warehouse is inspired by village structures you can find in warmer climates all over the globe – where squared houses are built together, creating an intimate and chaotic charm that relates to the human scale. A hybrid between an art installation, a warehouse, a small village and a larger cityscape.
We had been living in Vedbæk for 7 years before we bought this house in a small old fisherman's house from 1900 and fell in love with the old world charm of this house when it came up for sale. But the house was very poorly kept and you could see that various owners had built small elements over the decades and it was a complete patchwork of multiple styles when we saw it. So we had to tear almost everything out inside and start all over – only keeping the most beautiful and original details and ornaments. The house had 7 different floor types in 7 different layers and the back part of the house with the entrance and the children's rooms was a modern addition. It was well integrated from the outside but not in the inside of the house. We took up all floors and leveled them and cast the magnetite floor as a industrial contrast to the ornamented and historic walls and ceilings and then it has in its structure a clear reference to the Italian Stucco Lustre technique you use for walls with marble rendering. It made the house much more unified inside and really put a focus on the beautiful original decor. We then made some holes or niches in the walls here and there to give the daylight a change to pass through the different rooms as the spaces were quite dark. We then did the small round staircase leading from the living room to the bedroom to connect the 2 houses and redid the kitchen in a contemporary fashion – but reusing elements from the old house – the original herringbone flooring for the kitchen counter etc. More from Vedbæk house here. 
From residential interiors to furniture design, art direction and photography (all photos by Jonas Bjerre-Poulsen), Norm also do commercial interiors like the Copenhagen restaurant above, Nærvær. Nærvær means "Presence" and is about exactly that — the thing that we are all longing for; time for each other, being attentive and making eye contact. In its essence, Nærvær is about being in the moment, being present.
Working with so many different projects and designs, where do you find inspiration for all of this? In everything. People I meet and talk to, travels, when I'm shooting, in nature, materials, being at a factory. For example the inspiration for the Village which we created for &tradition I had during vacation with my family in a small French village. Also when it comes to being able to work creative, it has been important for us not to have to do all the administrative work ourselves and decided early to employ a managing director. 
The multidisciplinary design studio is now run by the three partners Linda Korndal, Kasper Rønn and Jonas Bjerre-Poulsen.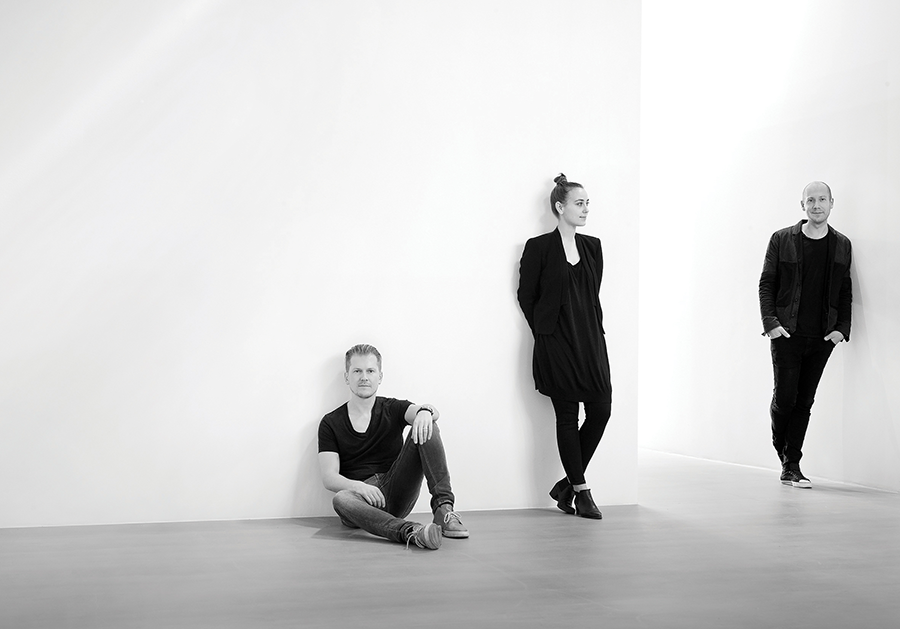 From left; Kasper Rønn, Linda Korndal and Jonas Bjerre-Poulsen.Elisabeth