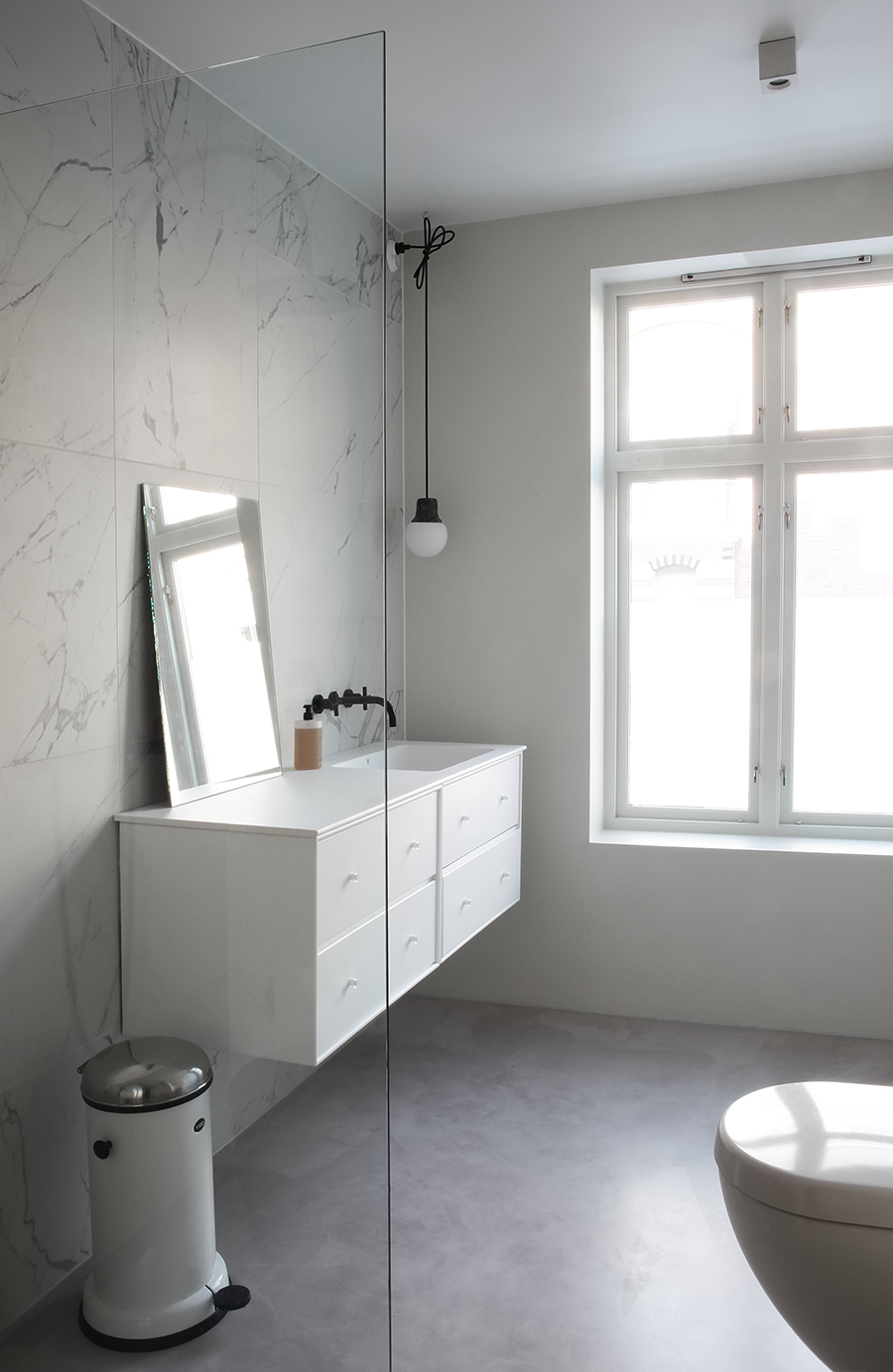 MY BATHROOM RENOVATIONS // BEFORE AND AFTER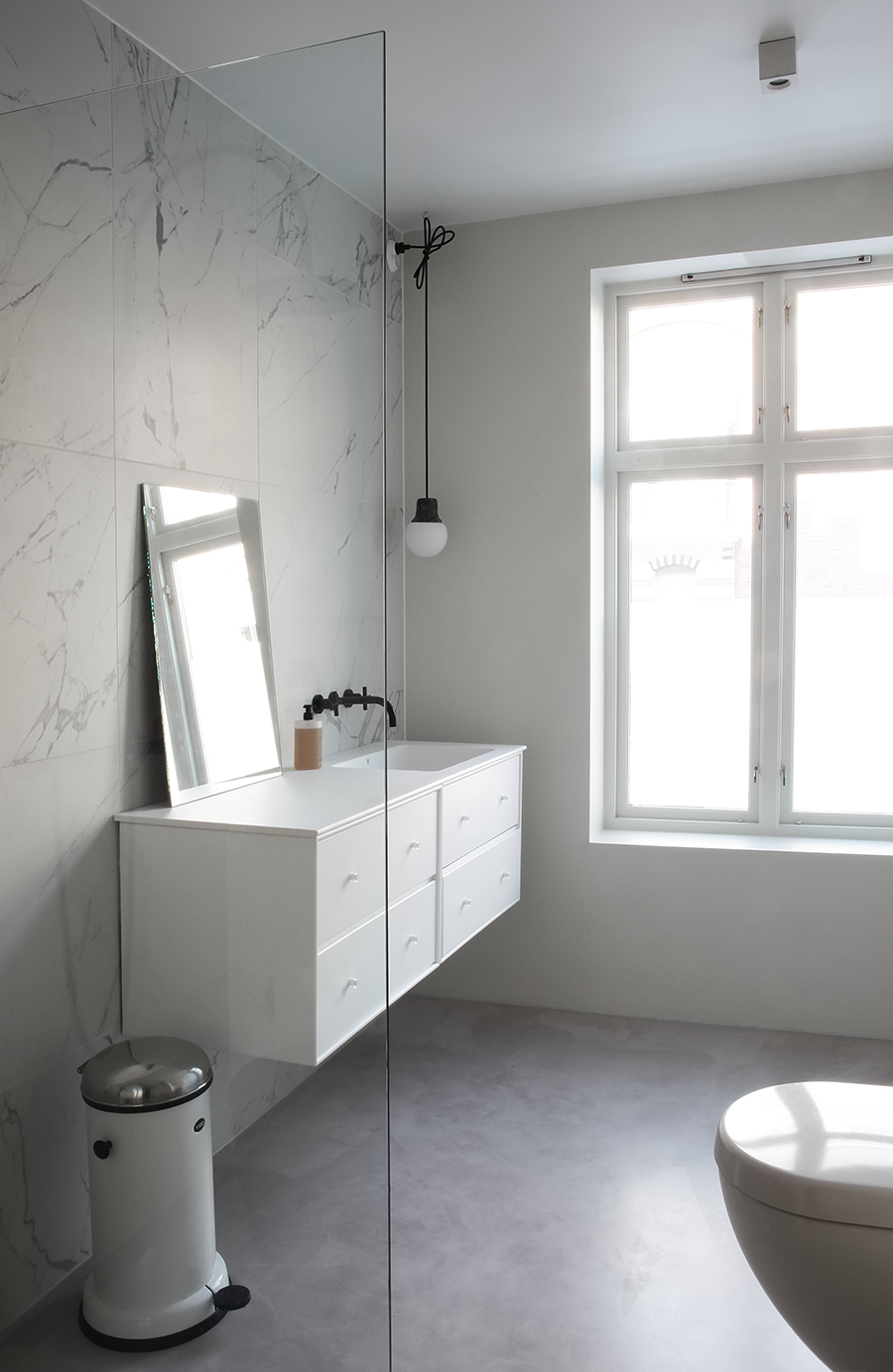 Things are coming together in my new home, and finally the bathroom is finished enough to show you more than just small photos of details like I've been doing on Instagram lately. In the end of the post I've added a before-photo, so you can see the changes.
You all know I was looking for a apartment for a long time before I found this one. Having everything I was looking for. One of the things I liked the most about the apartment was the spacious bathroom. In a 75 square meters apartment like mine its not often to see a bathroom of this size, even having a window with lots of daylight. Check! Also the layout of the room was good in the first place. It makes it easier, or at least it costs a bit less when you're renovating. So I kept the placement of the shower, the toilet, the sink and my small laundry area (will show you more later). But thats about it. Everything was demolished and built up again. You might remember some stories of how this looked like early in December? A month before I was moving in it was still a construction site. Thankfully things are wrapping up quickly in the end.
I had a quite clear idea of how I wanted the bathroom to look like, and to easier stick to my idea I made a moodboard while I was working on the design. You can see it here, and although some details are different mostly I went with my initial idea. A bathroom filled with light, choosing materials I know I will love equally much in years to come, functional solutions for storage and some details that really stand out, like the black fittings from Dornbracht. Actually those were some of the first things I decided on. I knew they would look gorgeous with the rest and the more decisions made the better. As for functional (and beautiful) solutions having the Montana bathroom furniture might have been my best decision. I was looking for something smaller and maybe just a striking piece – like something in stone, even without storage, just a basin. So happy I came across Montana. The size fits perfect, and it appears so elegant I think. At the same time it fits about everything I need, I actually have space left inside the drawers.
In one of my previous homes I had a concrete floor in the bathroom and I absolutely loved it. Having concrete floors laid is an advanced process that takes time and also a very expensive one. After designing the bathroom with the concrete floors I had discovered pastellone which looks very much like concrete and is but easier to lay and a more budget friendly option. Pastellone is a mix of lime, marble powder and other minerals inspired by antique Venetian floors. The mortar can provide a continuous surface which gives the floor a timeless and elegant expression. Completely natural and very beautiful. So I had Souk (the supplier of pastellone here in Norway) to mix some different color samples for me to find a grey color that would go well with the marble tiles I had decided on for the wall. It can be mixed into almost any color you want, and I wanted a neutral grey with a little warmth in it and it turned out just perfect. The mortar is laid in a thin layer and therefor it doesn't demand that much time to dry for example as concrete does. If you're a bit handy you can even do it yourself, not for me though.
The marble tiles (Cæsar) I chose is 60×60 cm and covers the wall that divides the shower from the laundry area and the wall behind my basin. The rest of the walls are painted with LADY aqua paint in the color LADY 1024 Tidløs, the ceiling is painted with the same kind of paint but the color is LADY 9918 Klassisk Hvit. Slightly greige to fit the tiles that are not white although they can seem like they are. The built in shelf in the wall inside the shower was designed to fit all my necessities, its so convenient to have it built in instead of hanging a shelf on the wall.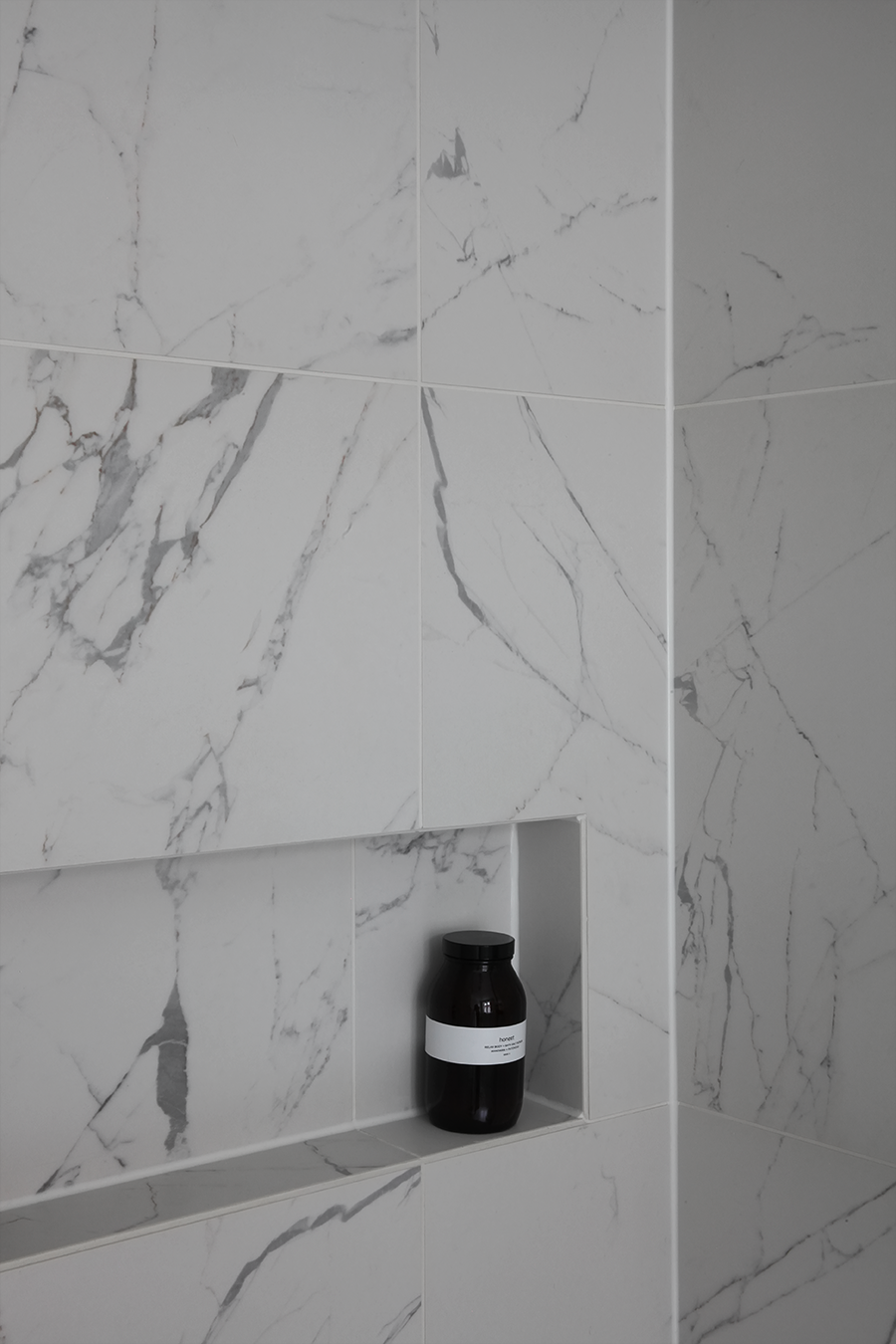 As for the mirror I just keep on top of the bathroom furniture? Not intended at all. One of those last minute issues "I'm not sure what to do about the mirror, but I need one". For now I think it looks great, and I'm keeping it like this.
Below the bathroom before. Some easy changes can really do a lot to a room and small details that one might not think matter, they do. Removing the skirting board made of tiles, having the same material/color on the whole wall and painting the window sill (I also had the lists removed) in the same color as the walls is some. Of course I did more, but its interesting to see how much those three changes can do for a room and how much more spacious it looks. More bathroom inspiration and tips? I have one from my previous house, the one I helped my sister design and inspirational ones here, here, and here.
Elisabeth