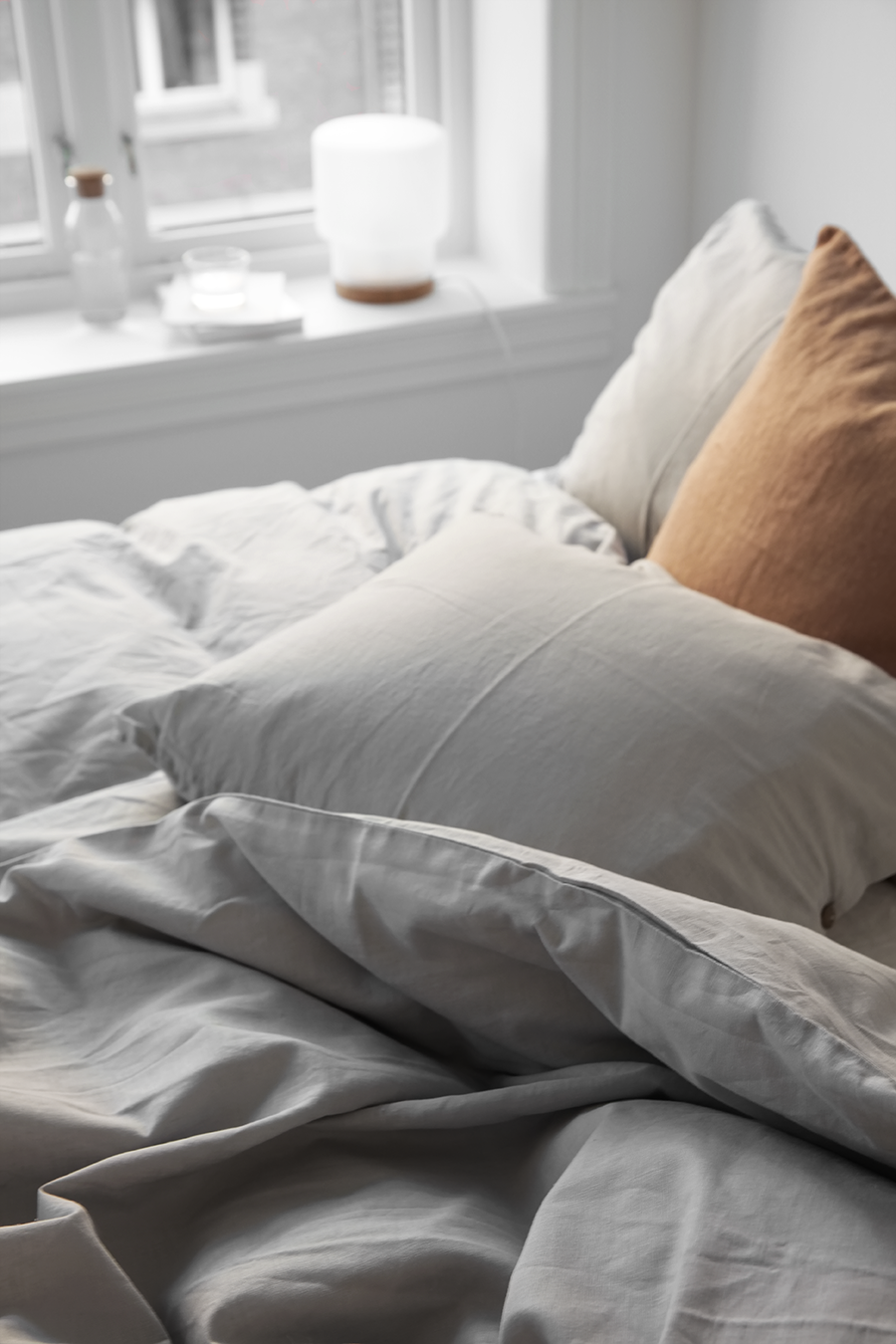 MY NEW IKEA WARDROBE SOLUTION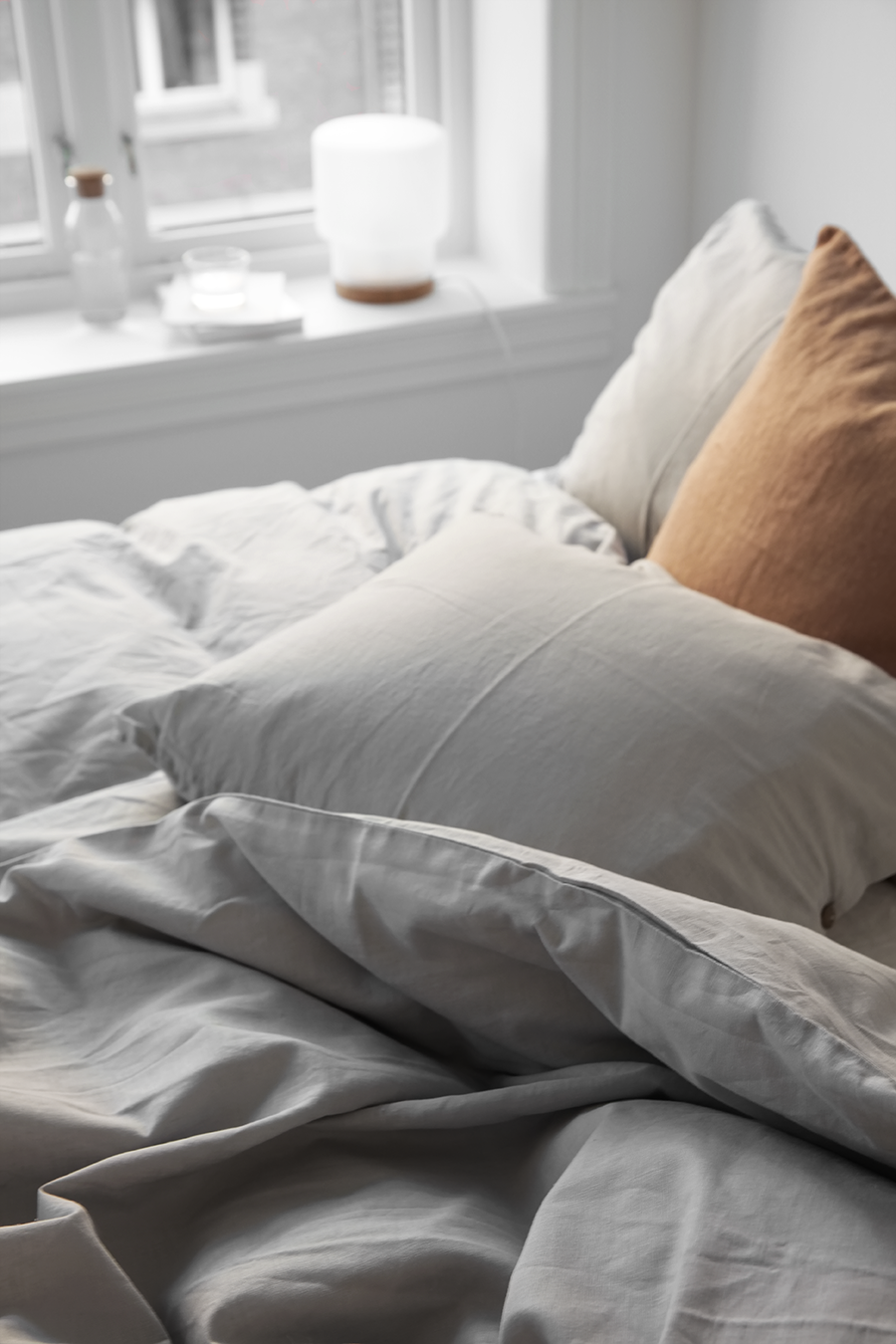 Sponsored/In collaboration with Ikea
When I moved in a month ago my bedroom had nothing but floors and walls finished. The rest of the apartment was actually quite done, I just hadn't had time to even think about what to do in here, other than that I needed a lot of storage. Since it didn't matter if I did this after I moved in it was prioritized last. It turned out a bit of a challenge, nothing really fitted the measurements of the room since I wanted a built in solution. And living with clothes in boxes.. well, you manage but when its actually all set its so nice to be able to see what you have instead of searching through all the boxes for that special pair of jeans or shoes. My rescue was the interior designers working at Ikea Skøyen who once again helped me plan my storage. Not that I'm not capable myself, but I had no idea that kitchen cabinets would be a much better solution for my bedroom storage than the wardrobe system, Pax, that I had planned to use myself. Vägtistel bedsheets in grey linen.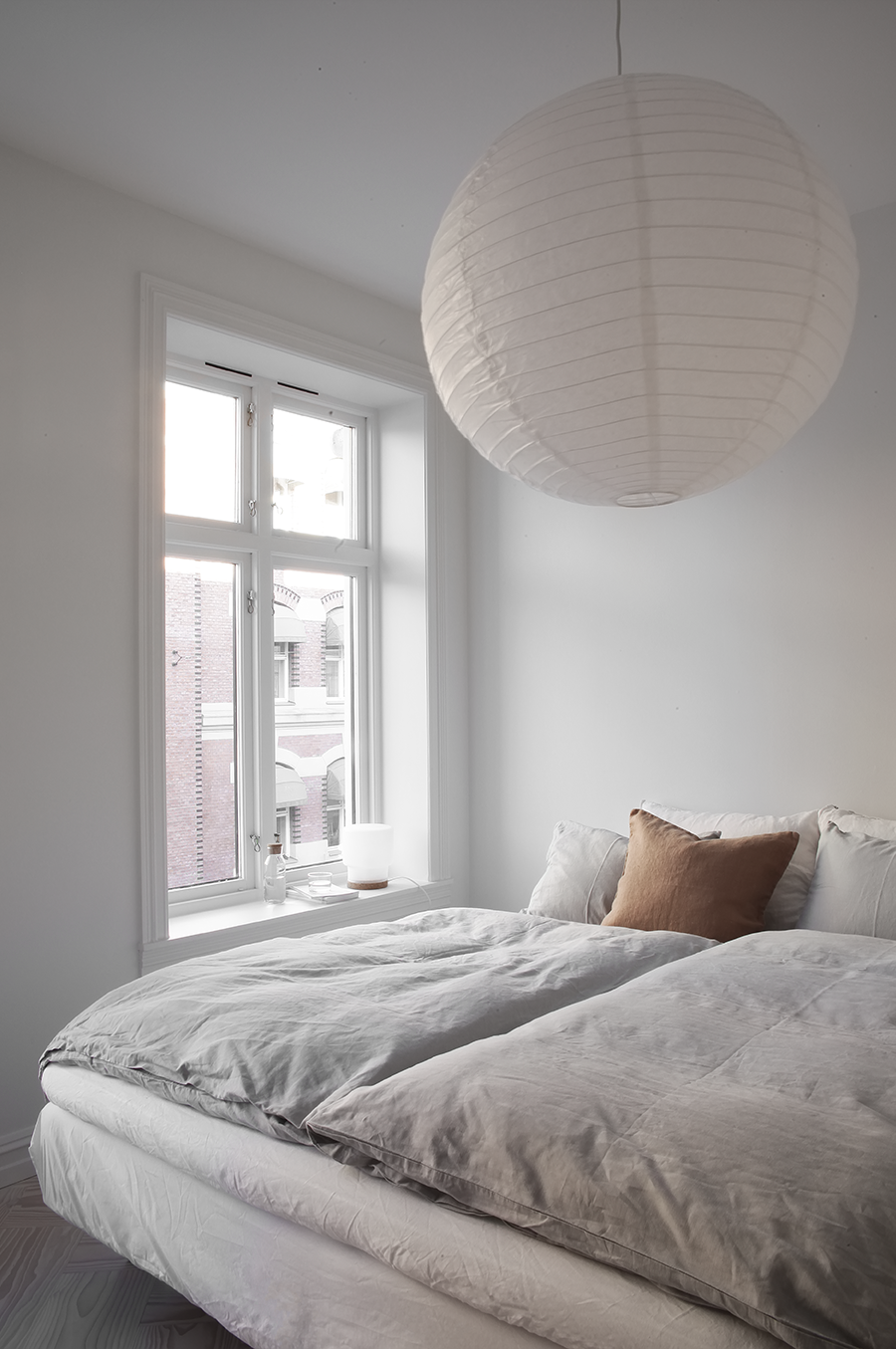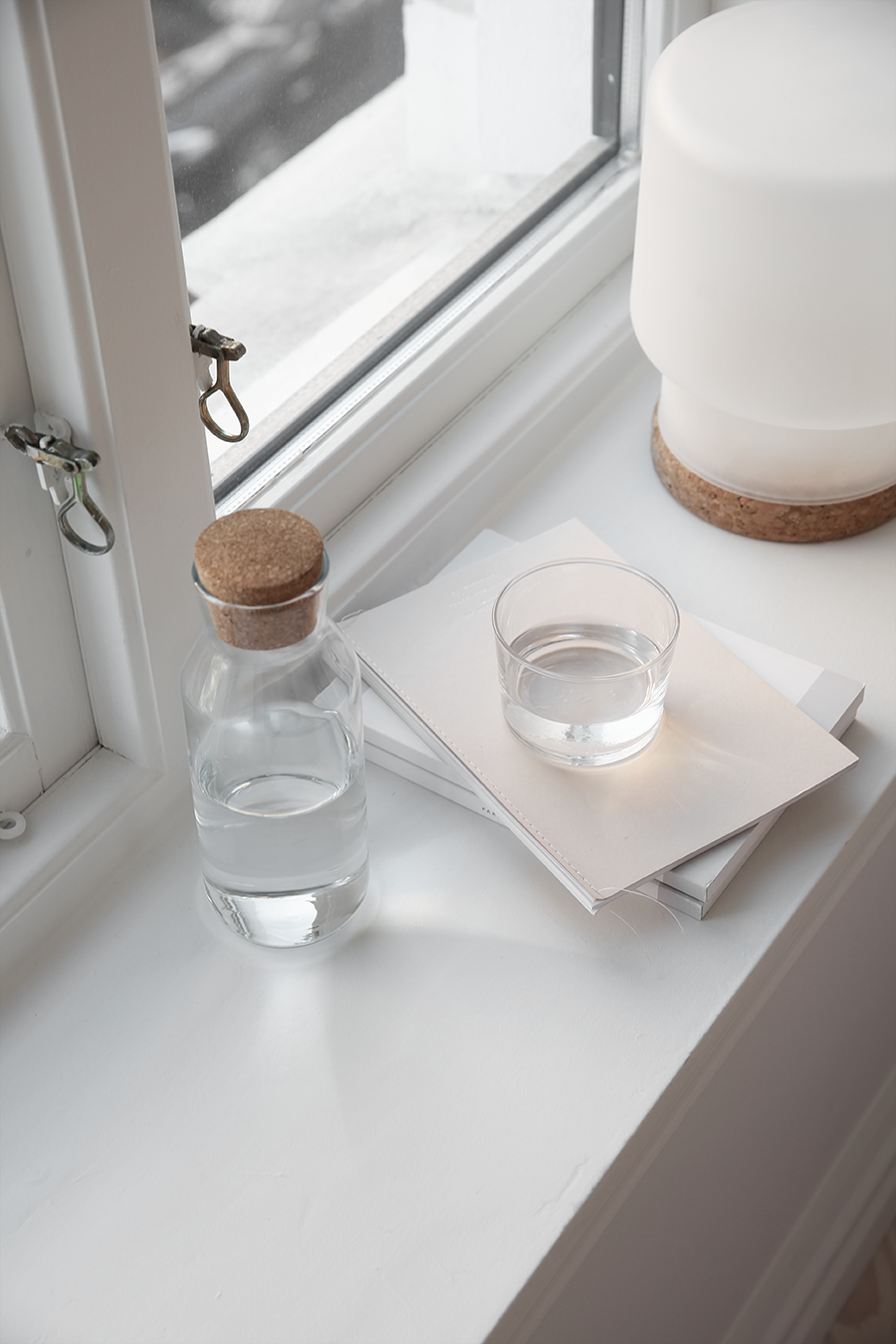 So, having a one-to-one consultation at Ikea Skøyen is something very different than visiting the other Ikea warehouses here in Oslo. I booked a two hour long consultation online and picked a date and time that suited me. No line, no waiting. Instead I had a nice cup of coffee, an Ikea expert helping out finding the best way of getting the most of my space available and all the cabinets, finishes, interior accessories right there to look at during the consultation. Getting my Ikea wardrobe planned became so much more fun (feeling like an expert myself now!) than I expected. Sinnerlig table lamp, Ikea 365 Carafe and Ikea 365 glass.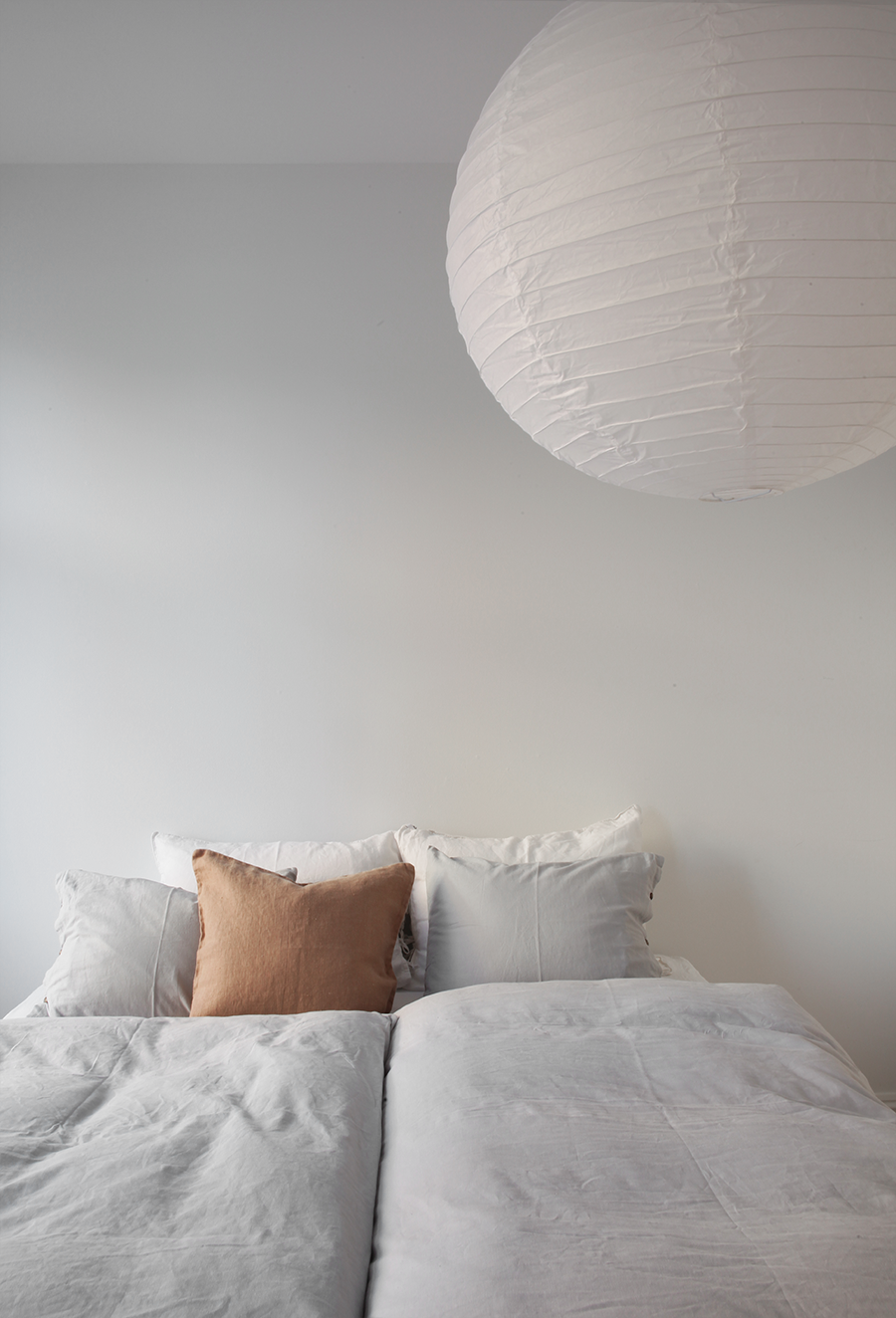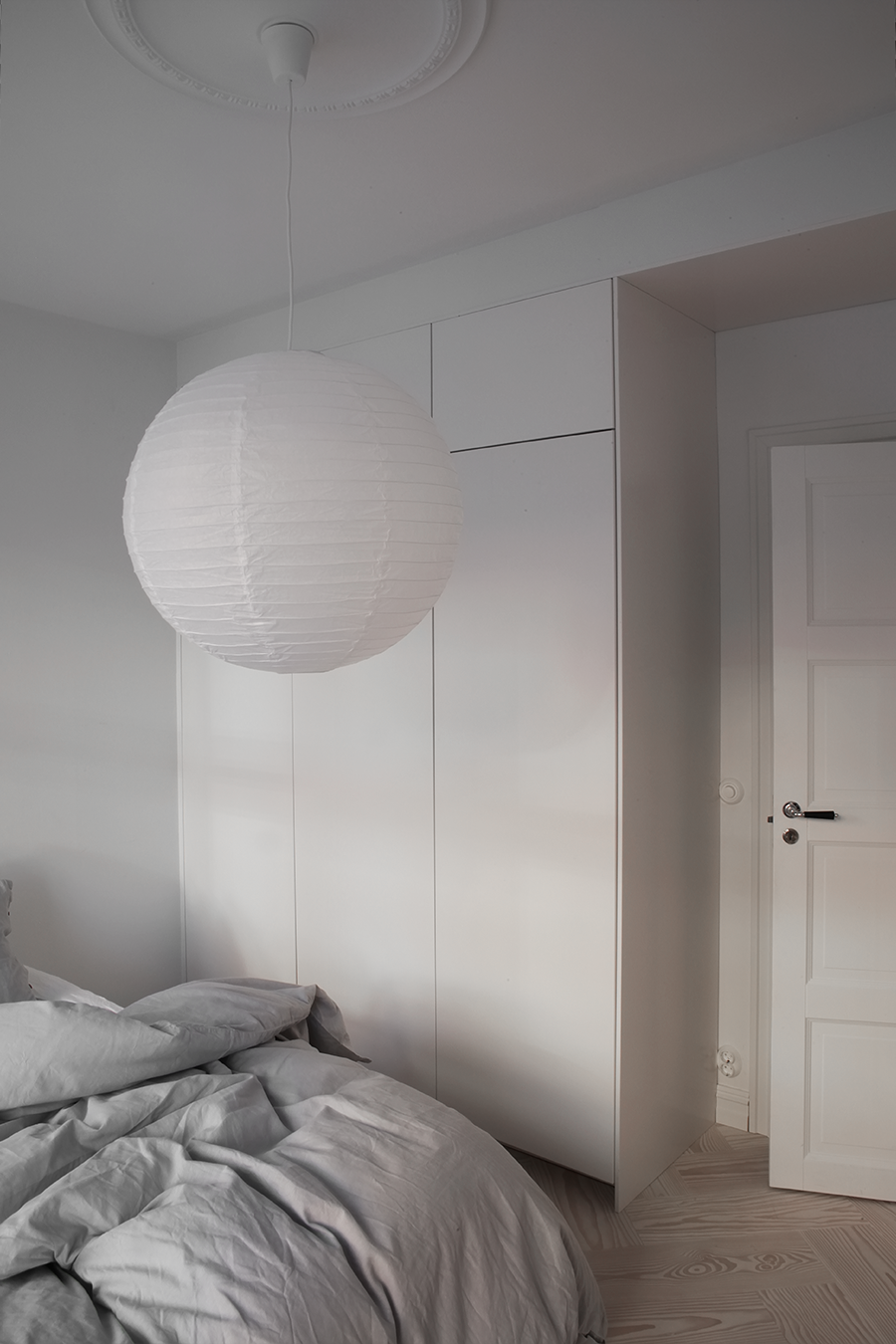 The cabinets were delivered and carried upstairs (I live at the third floor, very recommendable) a few days later. The good thing is that you can choose how much service you want at Ikea. Book an appointment to plan your kitchen, wardrobe or other storage. Get everything picked up at the warehouse and delivered at your home, and carried inside. And even get it assembled. Or do parts or everything yourself and save some money. For me saving time doing all of this is worth a lot. And although I pretend to be superwoman from time to time I am simply not able to either transport or carry huge cabinets like this by myself. Since I wanted the tailor made solution seen above, covering the room above the cabinets and door I got help building this, and assembling everything before I painted the panels in the same color as the wall (LADY 9918 Classic White, Jotun). Although being cabinets from the Metod system (kitchen cabinets) the inside are organized like a regular wardrobe with drawers who makes it easy to get an overview over everything inside and clothes rails in two levels. Right now I actually got space over in the cabinets. It feels so luxurious, and for now I choose to forget that I still got unopened boxes from the moving in my living room.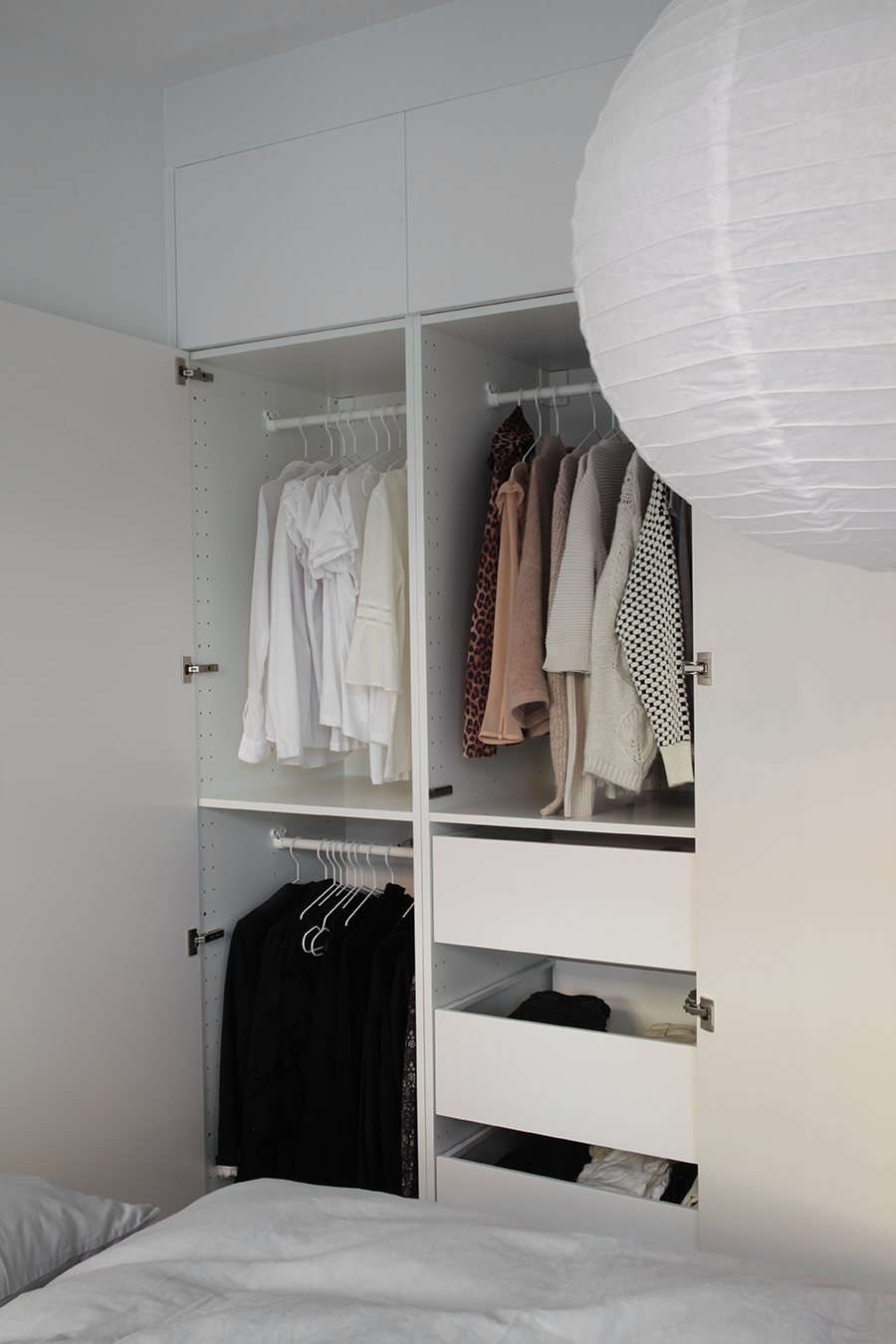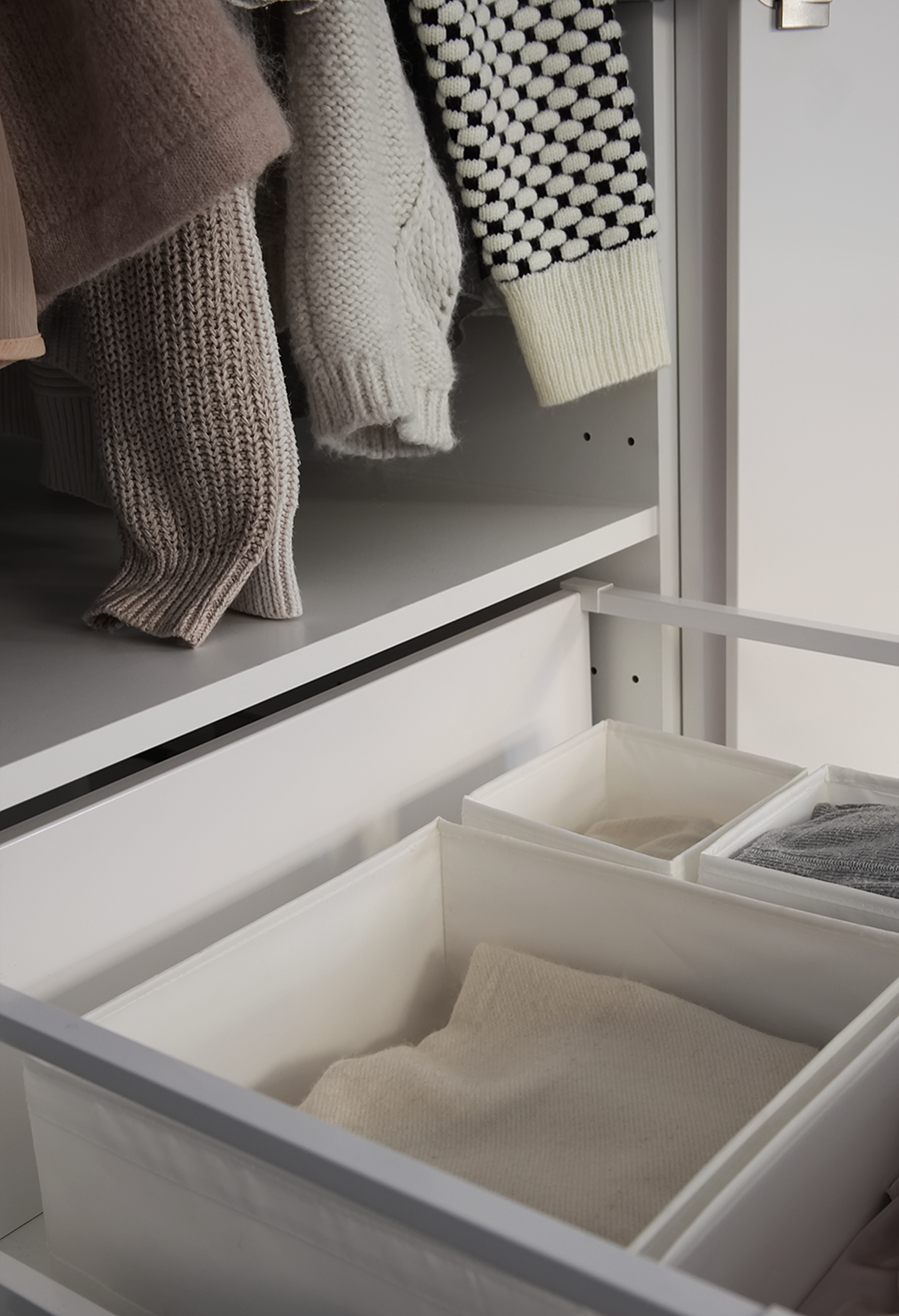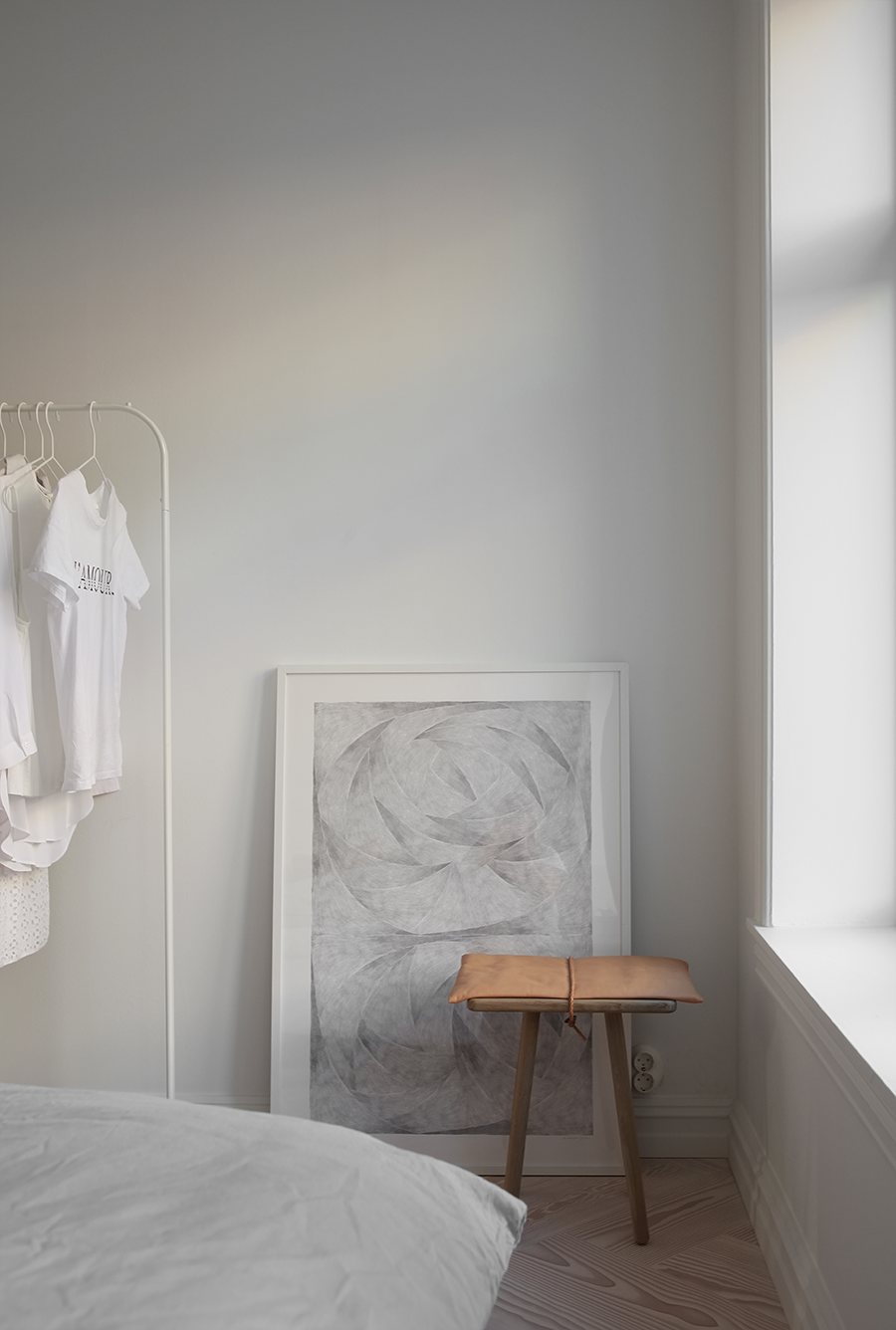 Since I love having some clothes hanging on a free standing rail as well I brought with me the one I had in my previous apartment. For everything special, or in everyday use. If I started planning my outfits too (planning things like that is not an asset of mine) the rail would be great to hang everything before traveling or a busy week. What I have done is replacing my old hangers with the white ones in the photos. Also from Ikea, and so much space saving in comparison to the ones I had. Mulig clothing rack, Stajlig hanger, Ribba frame.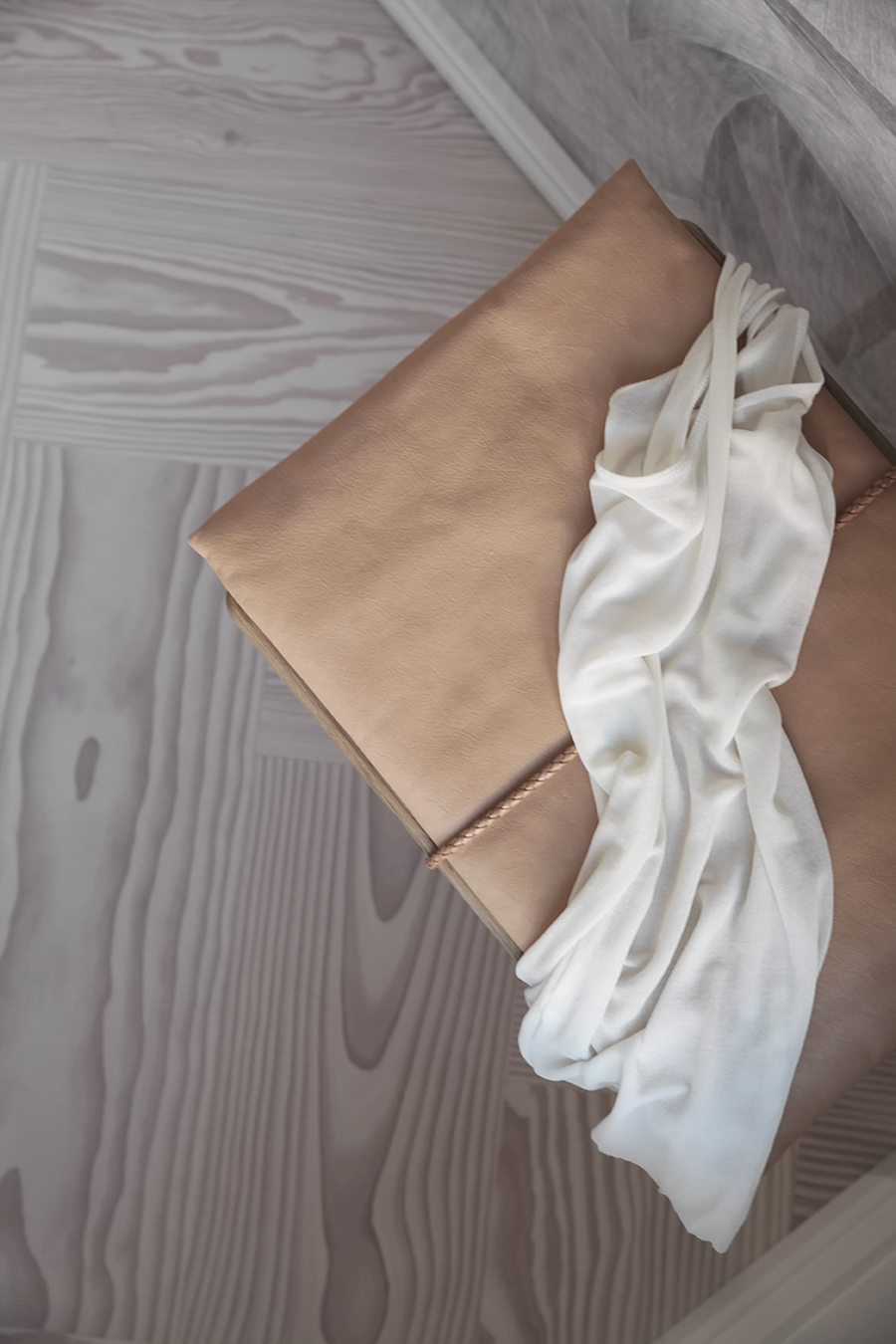 Elisabeth