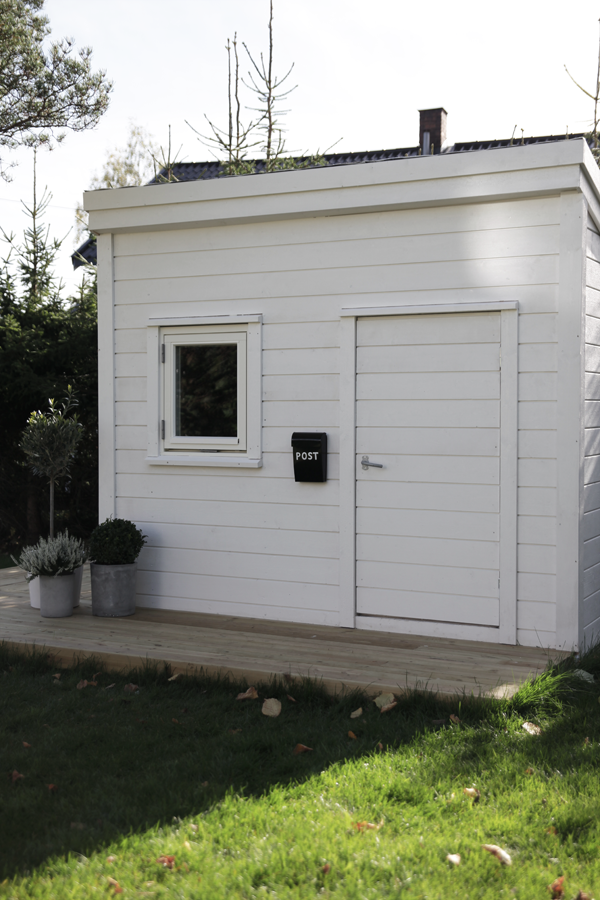 PROSJEKT // LEKEHUS I HAGEN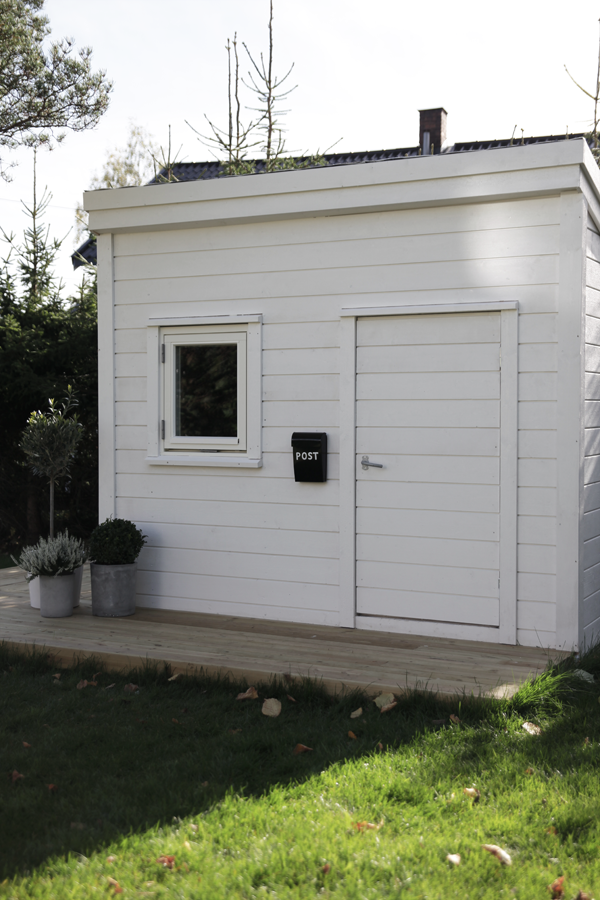 ..og huset ble endelig innviet nå før helgen! Det lille lekehuset har vært sommerens byggeprosjekt, og det gjenstår noe innredning før vi er helt ferdige, men man trenger jo ikke så mye for å ha innflyttingsfest. Eller å ta det i bruk for den saks skyld. For en tre- og en seksåring er det jo en drøm å ha et eget lite hus. Jeg har tegnet huset, det er superenkelt samtidg som det passer inn i vår hage, og mannen har satt det opp. (Lignende byggesett fås kjøpt hos forskjellige byggevarehandlere.)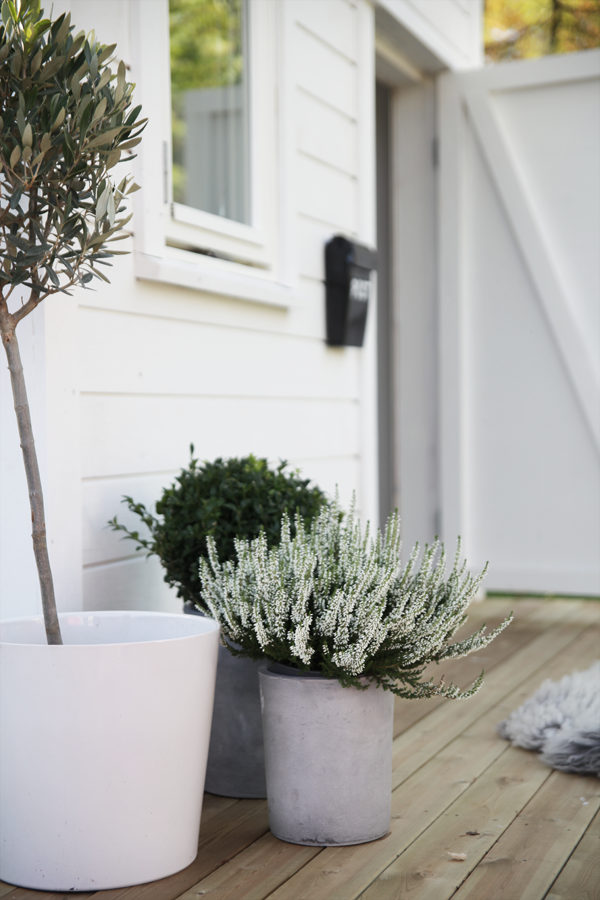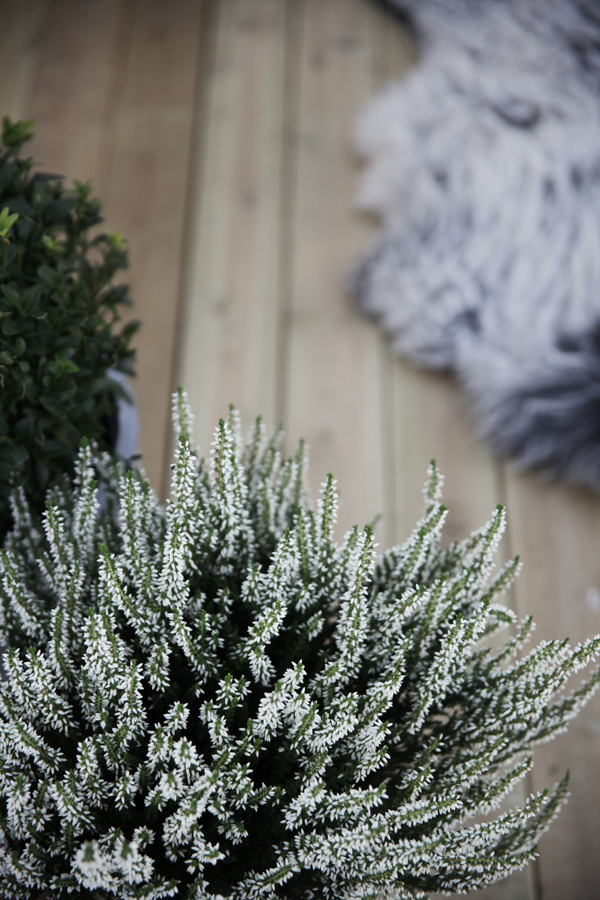 Innevendig har vi brukt panel på veggene, og jeg vurderte både malt og umalt (det kan bli ganske fint det og!) før jeg endte med male hvitt. For å få inn tavleveggen barna ønsket seg brukte vi tynne mdf-plater vi festet utenpå panelveggen, denne er malt med Lady Pure Color, Dempet Sort. Det er absolutt ikke nødvendig med egen tavlemaling, denne er matt og fin og helt super til formålet. Tavlevegg må til når favorittleken er butikk og restaurant. På denne veggen blir det fint med noen hyller og litt annet for å holde orden på lekene også etter hvert.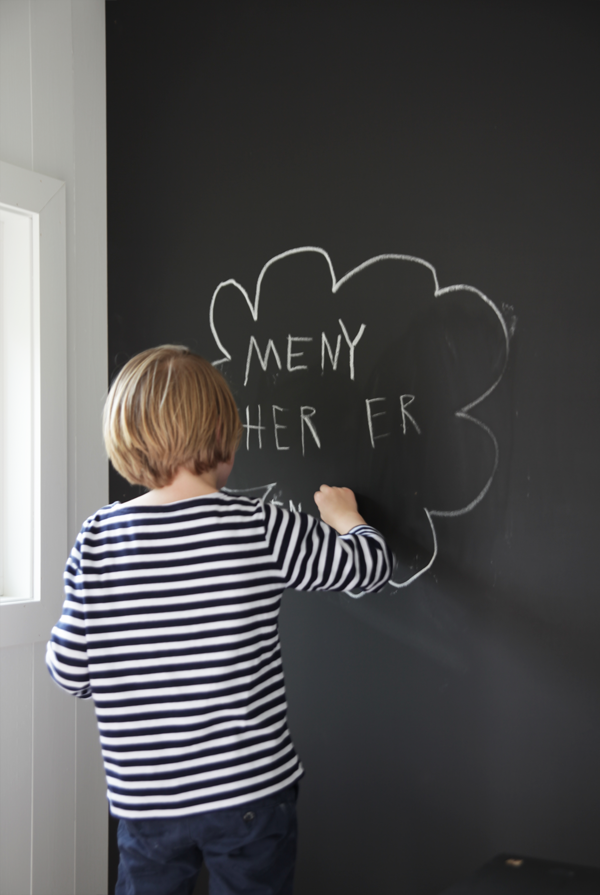 Det lille bordet med tilhørende krakker som skimtes innenfor døren var et kupp på Bolinas sommersalg. Det er så gøy å komme over de perfekte møblene til en fin pris – det er jo tross alt et lekehus dette her. ..selv om det er lett å ta litt av når både far og mor har fagene som yrke, les tømrer og interiørdesigner.
Vi er invitert på fest i lekehuset i dag,
god søndag!
/Elisabeth
Our latest project is finally ready for use, after using the summer to build it. The kids has moved in and loves having their own little house in the garden. ..and of course, I can´t wait to finish the details of the interior. The best part if you ask me.
Happy sunday!