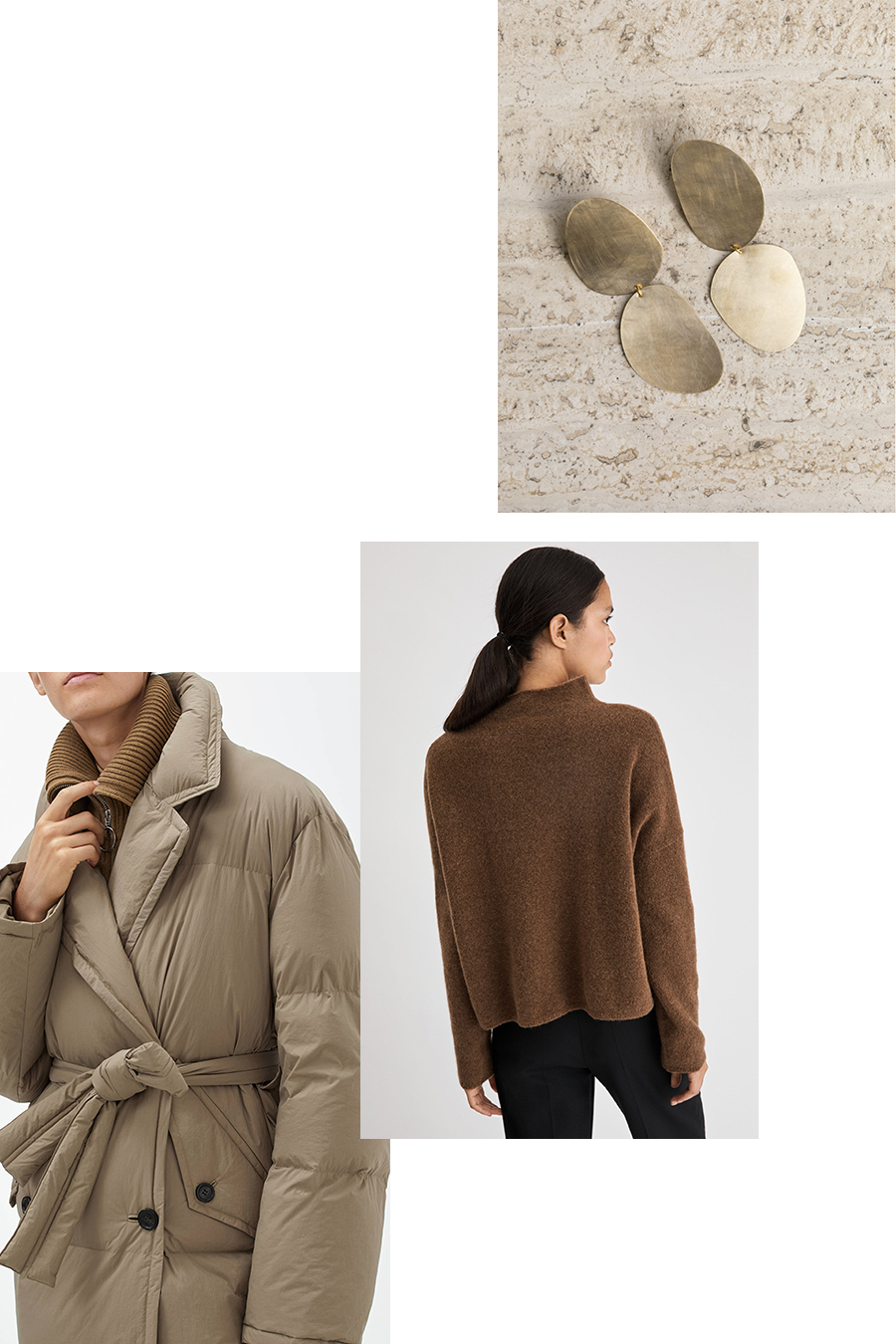 STAY WARM IN NOVEMBER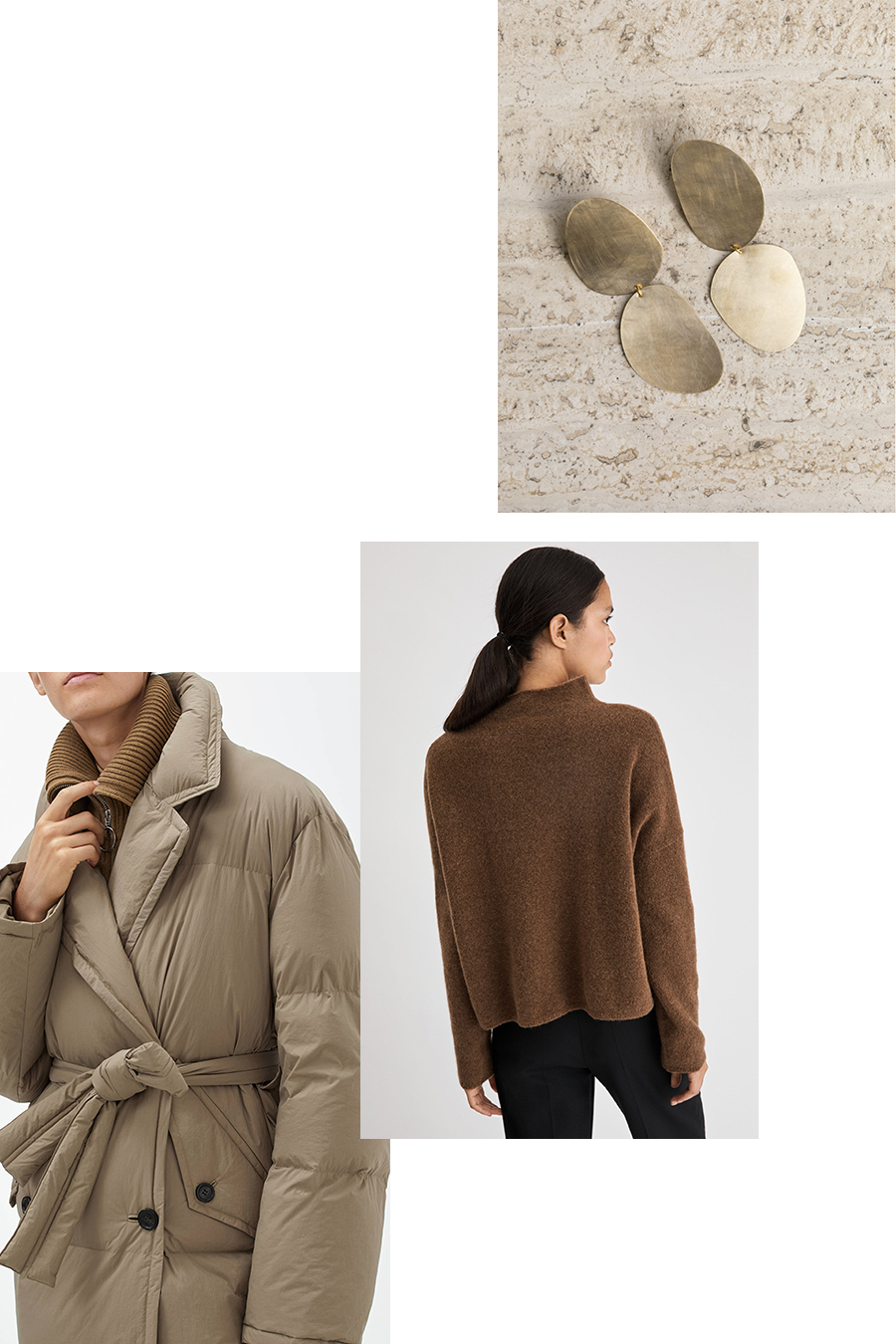 Warm, comfortable – and classy at the same time? November temperatures is brutal, at least fashion-wise (oh I miss summer and bare legs) – but there is some really nice pieces out there now – that will keep you warm, in style. 
Down Puffer Trench Coat, Arket has the prettiest silhouette and beige color. Filled with recycled down and feathers, from Arkets Upcycled Down collection, offering superior natural warmth from reclaimed materials. All covered with coat, hat, scarf and gloves – earrings is about the only jewelry visible. Two Stones asymmetrical earrings by Mold Atelier is gold plated. Designed and handmade in Oslo by Linda Christiansen and Mikel Murstad Strøm. Funnelneck sweater by Filippa K in wool and yak – and an amazing hazelnut color.
Gloves, Filippa K. The name of the color, honeybeige, makes me crave for these. Made from smooth lamb nappa with heavy stitch detailing and soft wool lining. Puffer Cape, COS. A bold statement piece. Well-padded with duck down and feather, this short cape has a hood that can be worn up or split down. We all know the snow storms will come, better be prepared. No winter without extra nourishment for the skin. A newly discovered favorite that keeps mine hydrated and glowing, Aesop Parsley Seed Anti-Oxidant Serum. A lightweight formulation that hydrates, smoothens and fortifies the skin.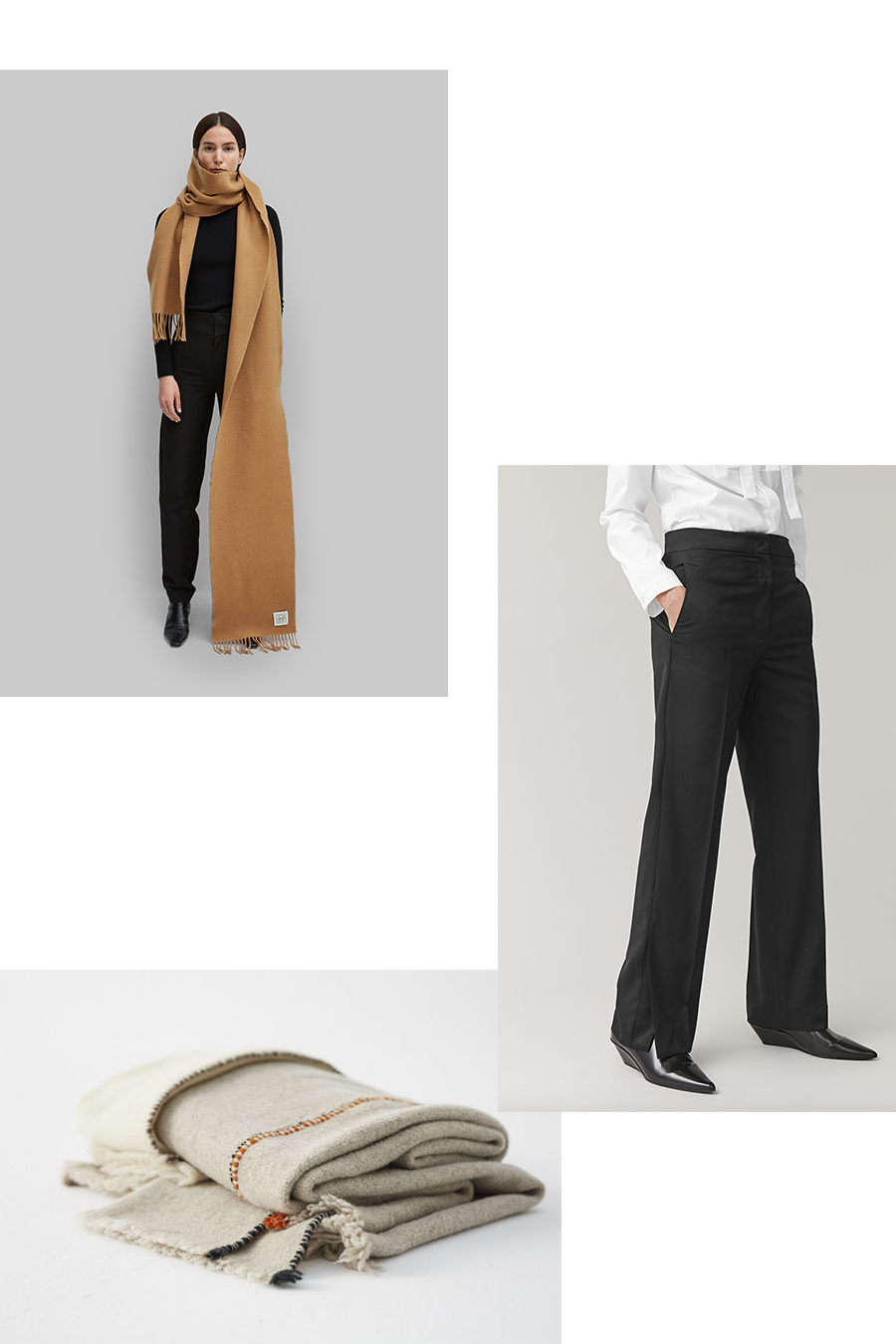 Bova scarf, Toteme, in caramel color. A wool scarf with an extra long length. Tailored wool trousers, COS. Woolen pants, looking super sharp. Last up, Criss Cross plaid designed by Faye Toogood for Teixidors. Their new collection consisting of three plaids all designed by Toogood, offers a playful, textural take on a traditional favourite. Each piece consists of three woven quadrilaterals of subtly differing proportions and hues, sewn together into a long patchwork with fringed edging; the contrasting yet complementary colourways– including subtle ochre, neutral cream and a rich scarlet – are achieved by a combination of natural wool tones and vegetable and eco-friendly dyeing. 
Elisabeth