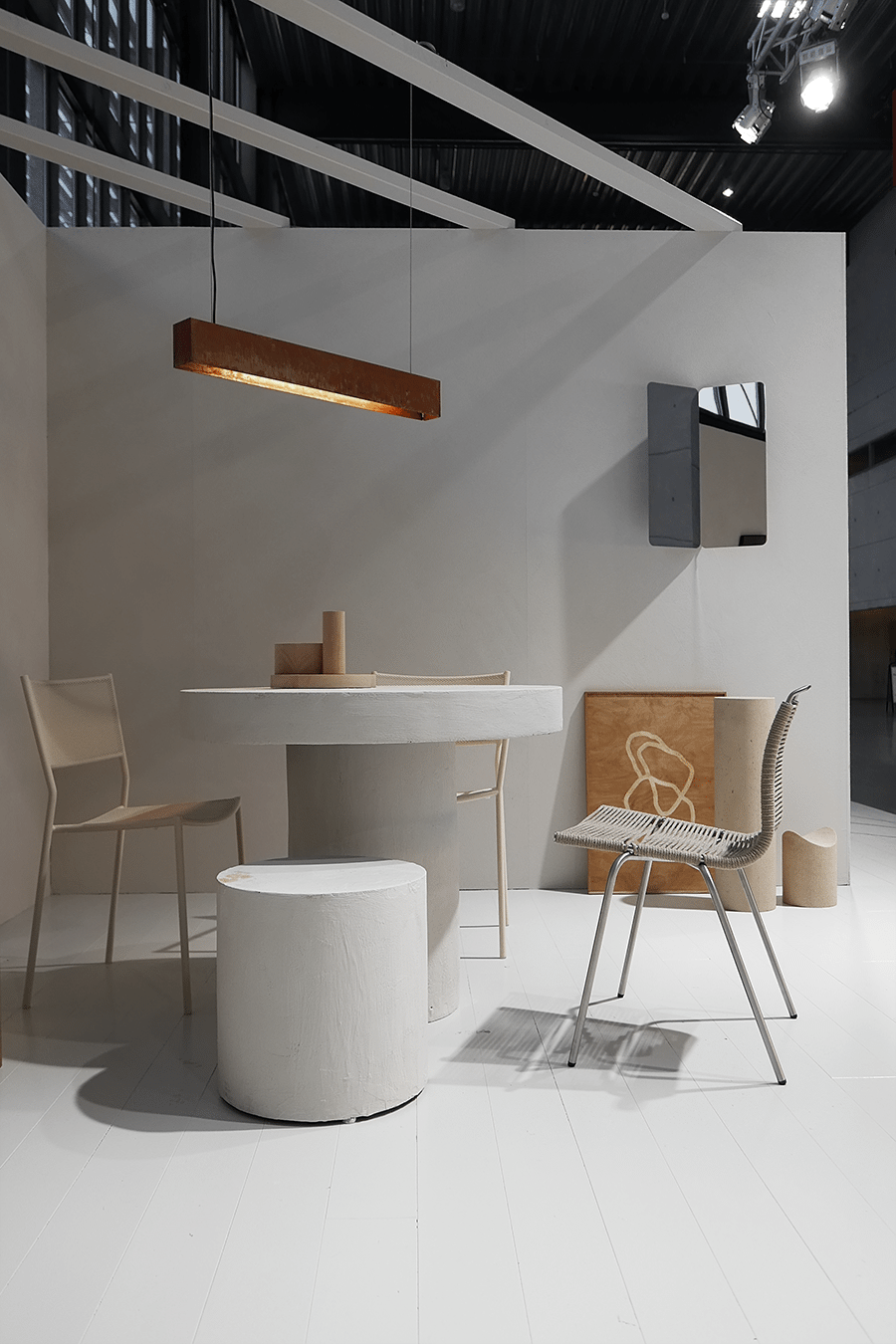 TRENDS 2018 FROM OSLO DESIGN FAIR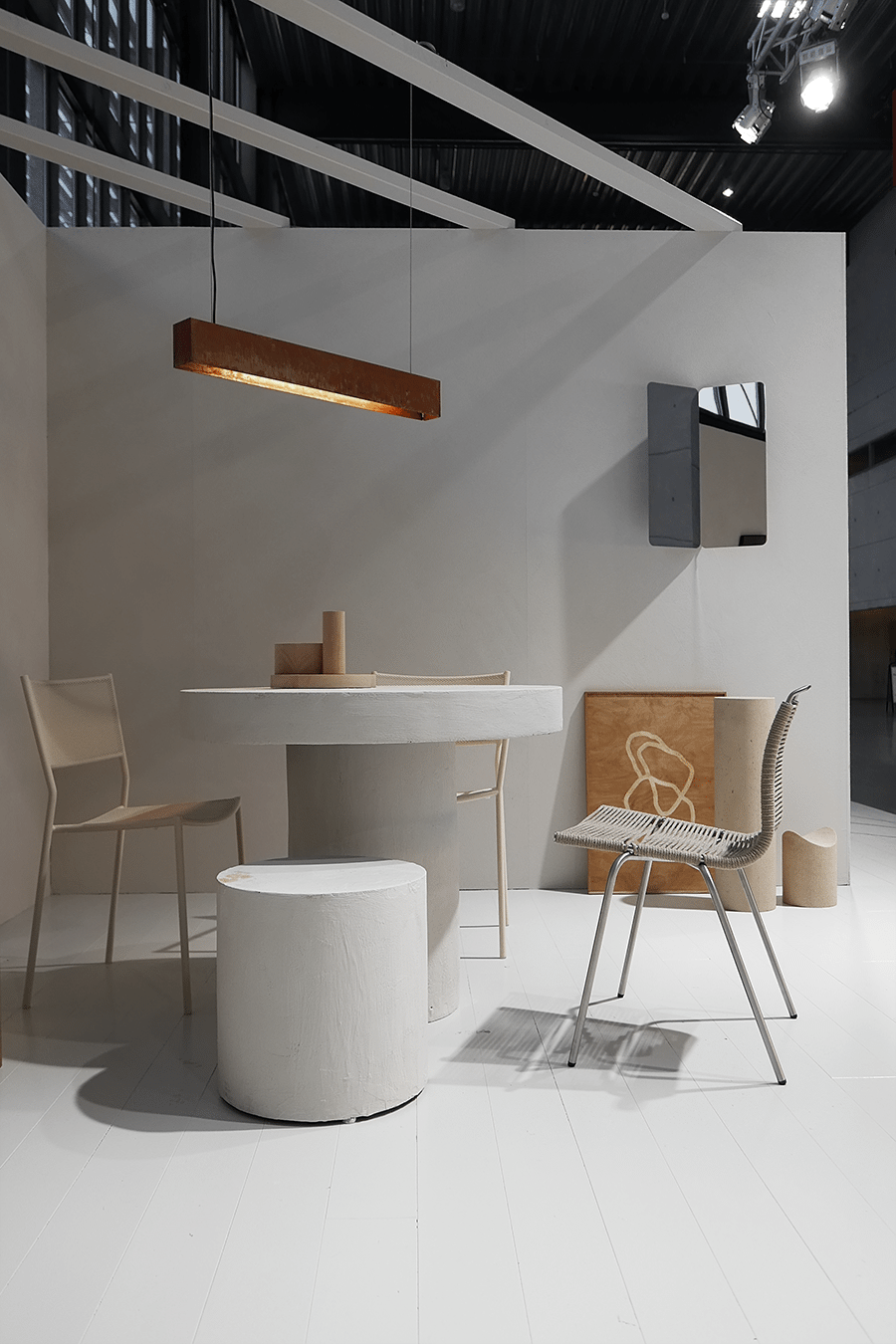 Oslo Design Fair has been on this week and its always exciting to hear what the experts has to say about ongoing trends and tendencies – and to see how they are interpreted. The theme of the fair was Identity, and how our homes looks like, how we dress and how we speak tells a lot about who we are. Identity as not only for you or me as a person, for brands, for magazines and even for a country. How Norway slowly are taking pride in our own design. Fashion, art, music, interior – and we are doing it well. The tendency exhibitions at the fair was curated by Kirsten Visdal and stylist Per Olav Sølvberg where they interpreted four different different trends they belive in for 2018. The Swedish stylist Annaleena Leino had also done an interior to show how she is working with identity in her projects, and one of the things I really admire about Annaleena is how strong her identity is. The minimal, Scandinavian style, how she works with sculptural shapes, the soft textiles, it all adds up in a very recognizable style. Photos no 1, 2, 3 and 4.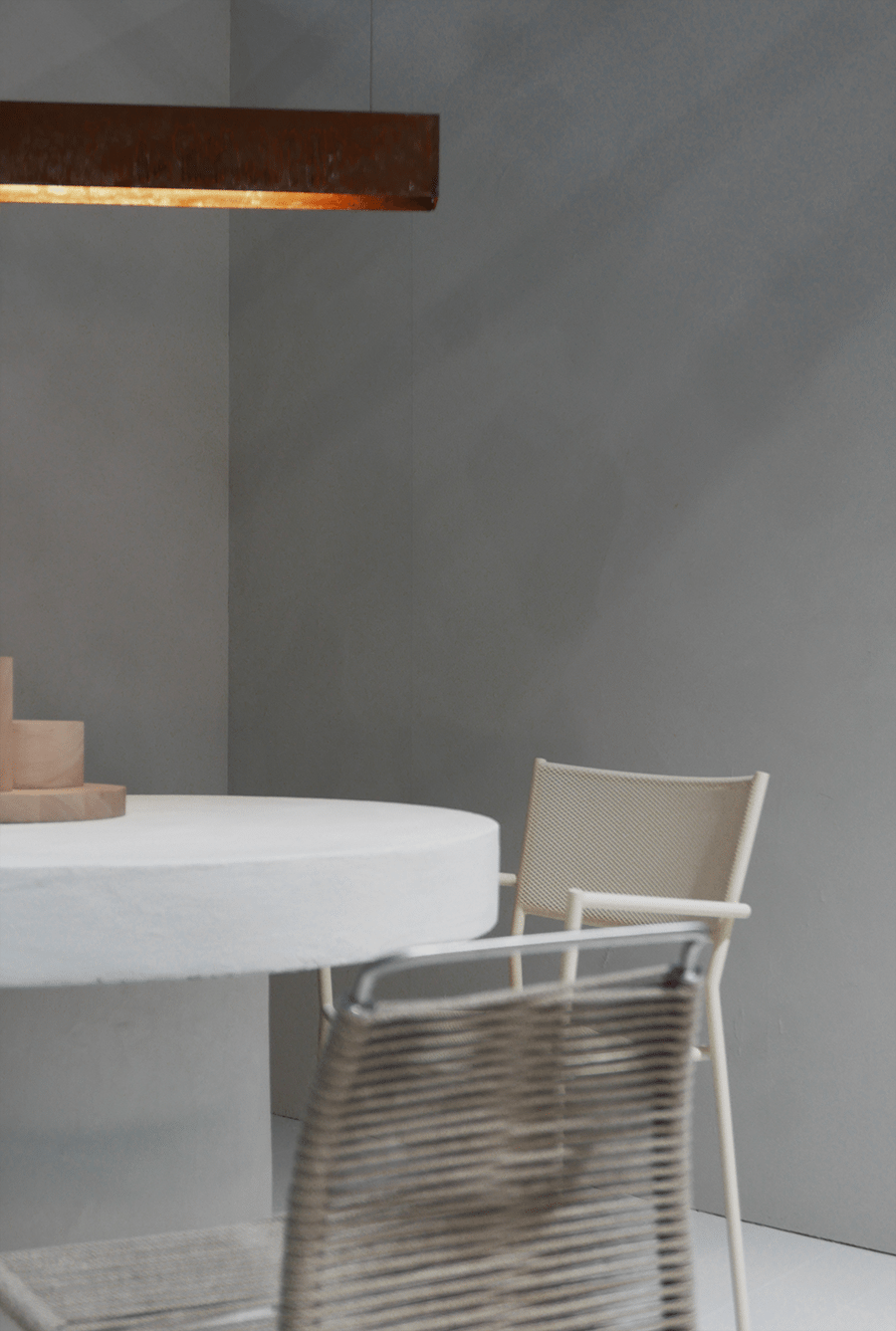 The bronzed pendant above the dining table is made by Matti Carslon, a Swedish designer working in Stockholm. Also spotting chairs and a side table from Mass Productions. Sculptures in photo no 4 by Swedish artist Kristiina.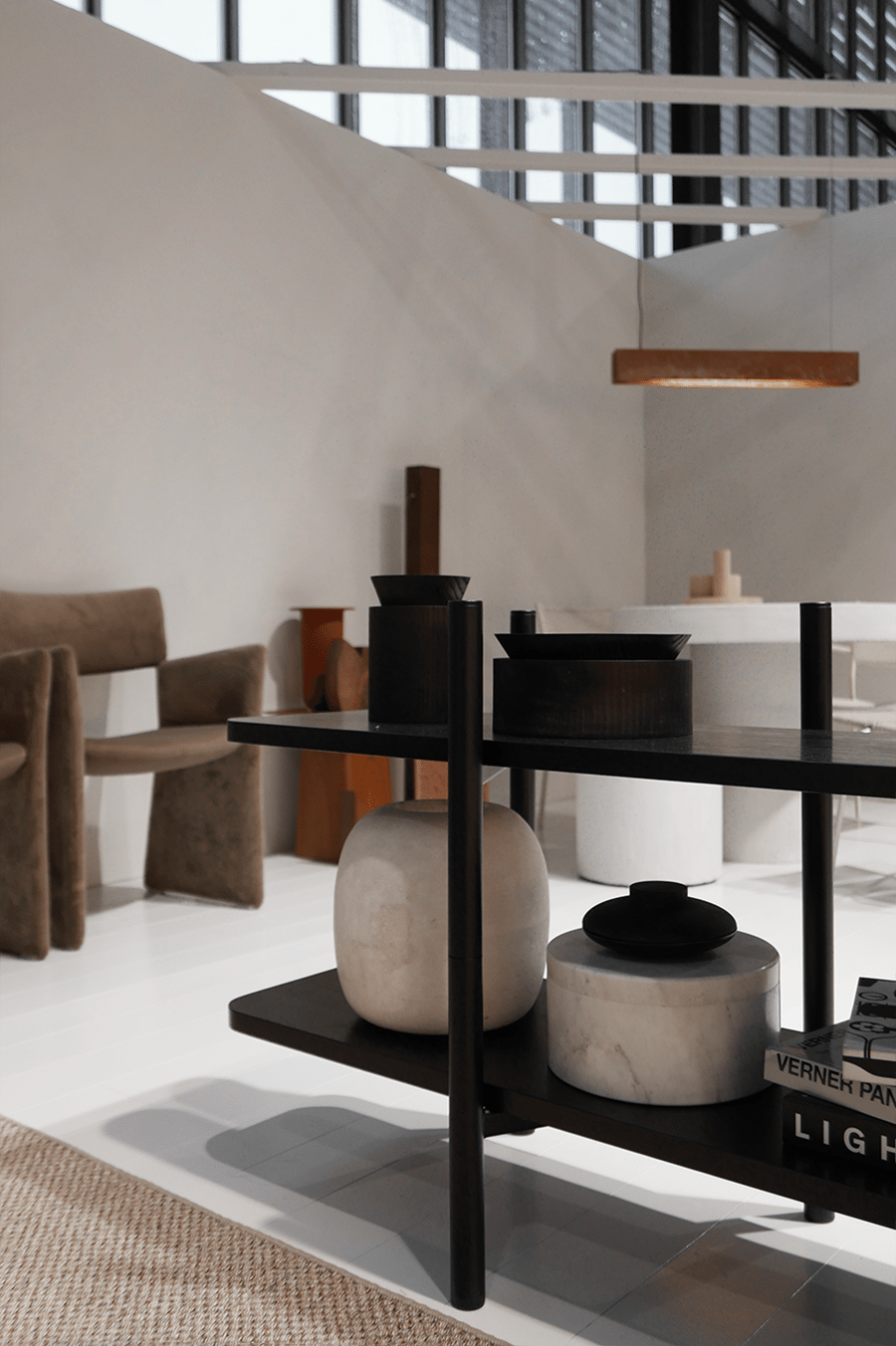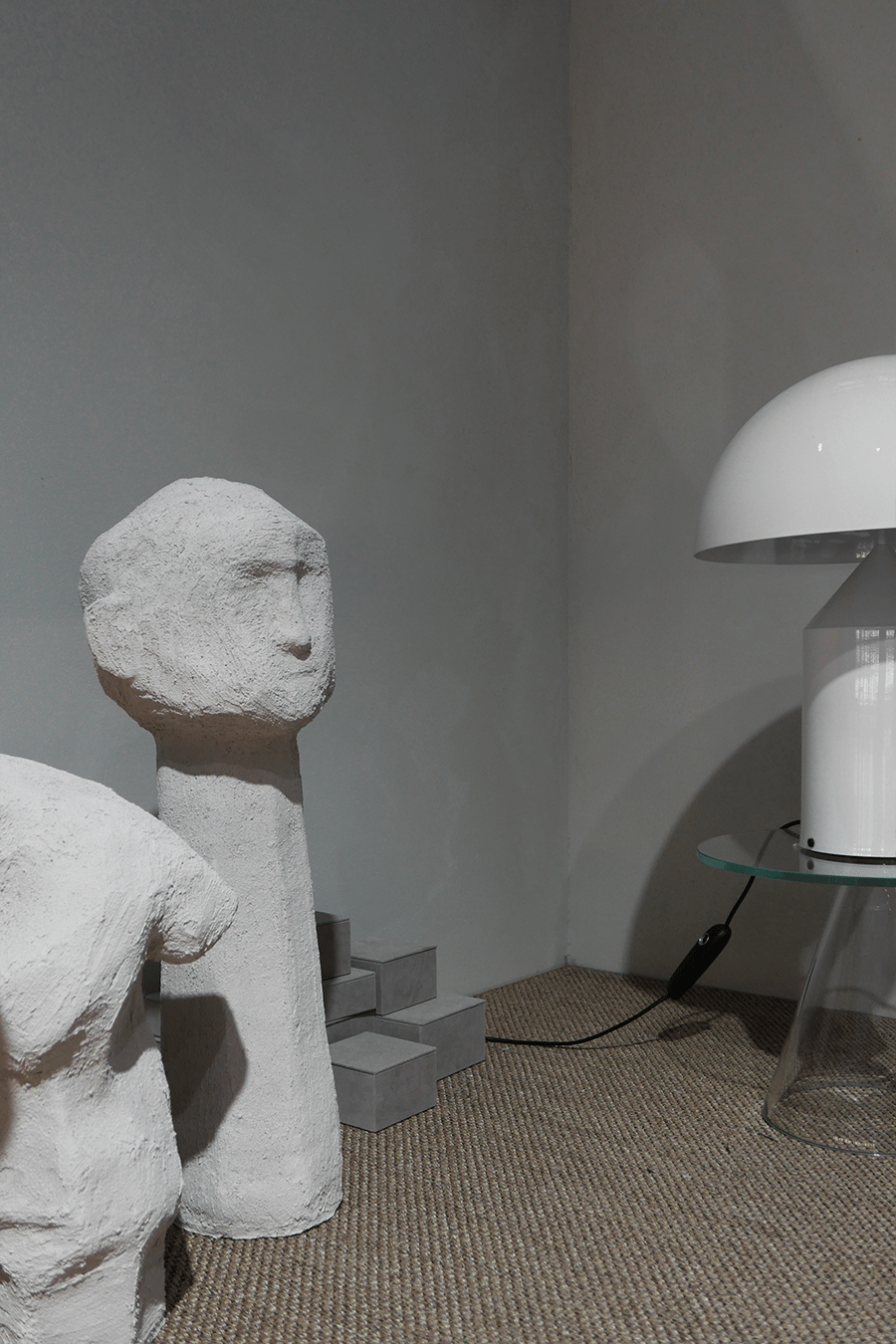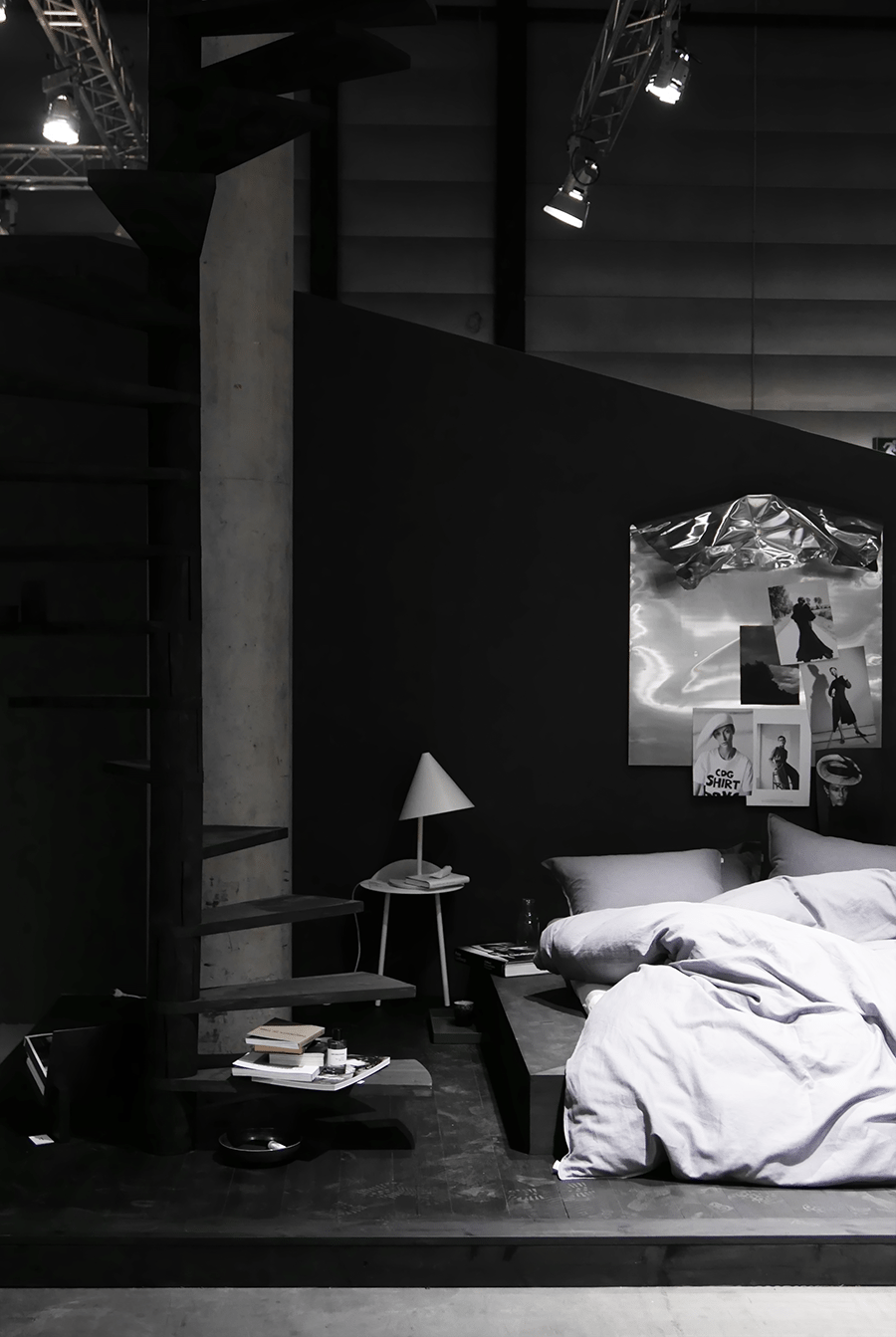 So, the tendency exhibition by curator and stylist Kirsten Visdal and stylist Per Olav Sølberg. Inspiring and new thinking. The four trends they belive in for 2018 is androgynous, interpretation, chlorophyll and floral. Visualized in four rooms with beautiful interiors that reflects a 2018 of playfulness and rich colors.
The combined living room and bedroom has dark walls and reminds us a bit of a New York loft. An androgynous room where either gender, art or design divides from one another. The things you like are mixed together, into your style which reflects your identity. The stylists have used a lot of metals in the interior, both perforated and polished. In contrast to this we find soft textiles. The living room area is furnished with furniture and lamps from Menu who gives a soft expression, but still with very clean and minimal lines. Photos on the wall above the sofa by photographer Trine Hisdal, sculpture on the pedestal by very talented artist Eyvind Solli Andreassen.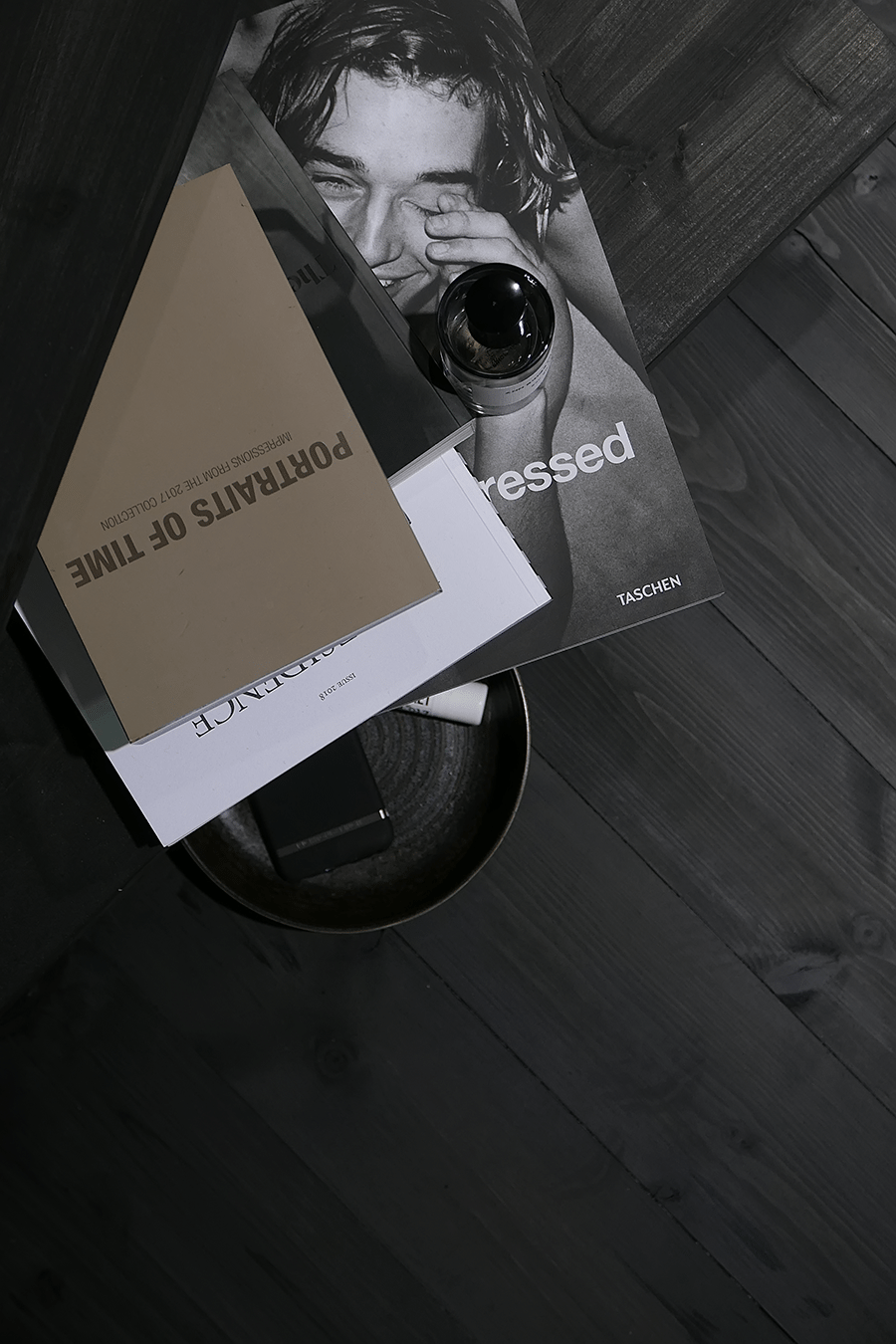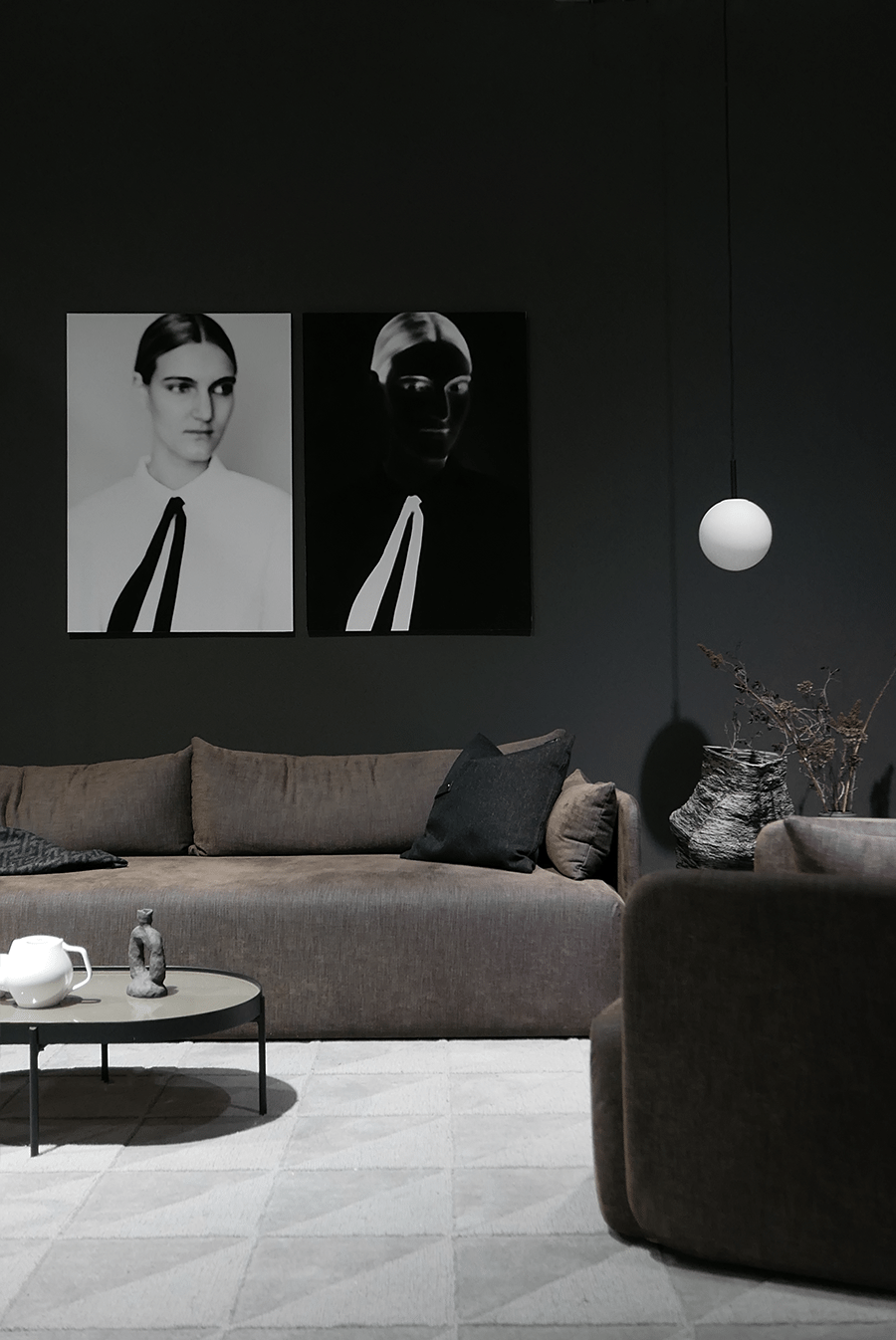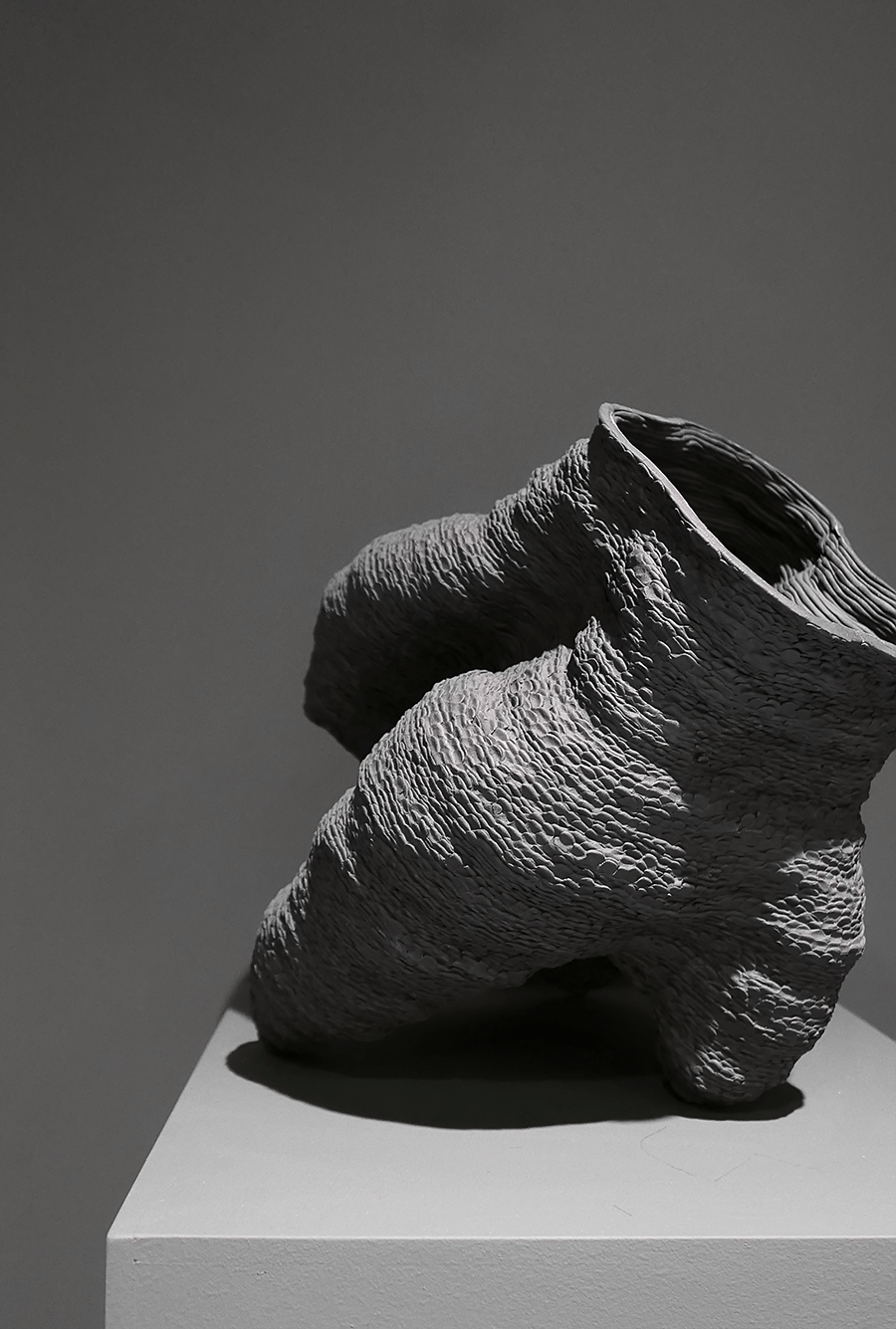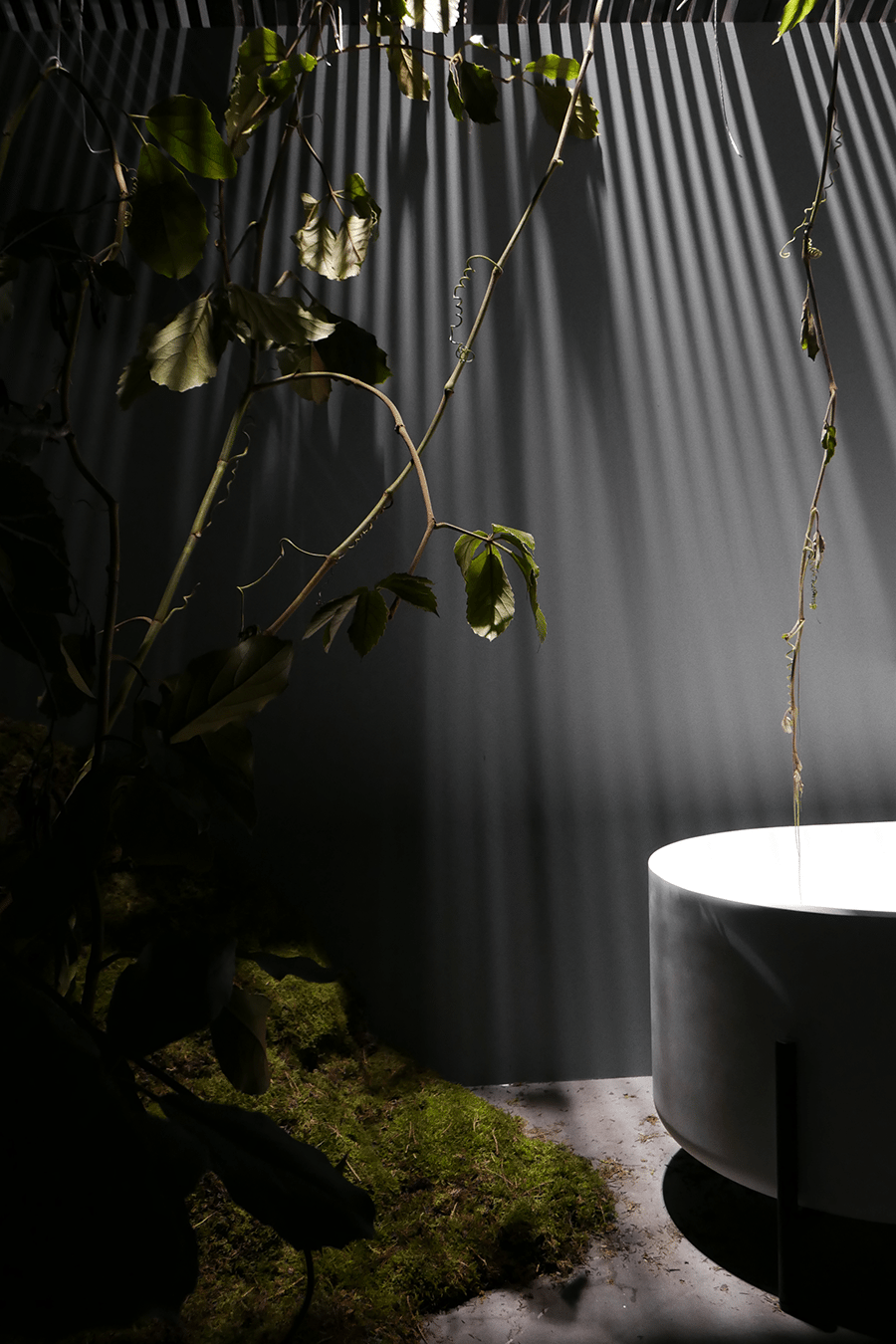 The bathroom in the tendency exhibition was a interpretation of the chlorophyl trend. A development of the green trend we have seen for a while now, with big trees in our living rooms, growing your own vegetables and also how the bathroom is a room where we spend more time. It shows a tendency on how we see rooms in a new way, a bathroom can be almost like a living room with chairs, a small couch etc. The bathtub is designed by Danish designers Norm Architects for Italian manufacturer Ex.T.
The Floral tendency was shown in a dining room filled with flowers, both dried and fresh and floral patterned wallpaper. The room also showed the beauty of imperfection. Flowers hanging with their head, a table set with ceramics of different kinds and generally a feeling of causality – where everyday imperfection is beautiful.
The last tendency, interpretation, was shown in a all red interior (unfortunately no photos since the exhibition at all times were filled with people), but shortly summed up this is about archetypes being interpreted. The idea that we all has an idea about how a chair, jug or other objects are shaped universally. Inteperetations of these archetypes will be of importance in the interior ahead. Well known objects will be given new meanings and an example from the exhibition was knitting who feels very safe and well known, take on new shapes and functions and becomes an installation on the wall.
Elisabeth